Living memory
Submitted by: admin

12 / 30 / 2006
---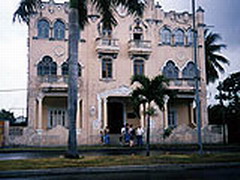 Taking a look back at the peoples' cultural traditions contribute to recovering the intangible heritage that relates oral traditions registering popular cultural expressions comprising the living memory essence.
Juan Marinello Centre of Research and Development of Cuban culture of the Culture Ministry includes in the annual awarding program the one titled Memoria Viva (Living Memory) in recognition of personalities and works intending to preserve, recover and promote art and culture.
In 2006, the Award featured 25 nominations in all the categories, 9 distinctions and 2 special recognitions.
under the Personalities category Memoria Viva Award has been given to Rubén Aguiar Dávila and Humberto Medina Pereira. In the case of Aguiar Dávila from Casa Naborí of the Centro Promotor de la Cultura Campesina de Limonar in the province of Matanzas, his countryside musical compositions and improvisations outstood. And regarding Humberto Medina Pereira, for being founder and general director of multi-awarded comparsa Los guaracheros de Regla, Havana City until 1988.
In the Tradition Preservation category, the bearer band Arabba, la Conga Los Mau Mau, wooden carving project Blanca Rosa Chacón, conga and comparsa Mateo Sánchez and Trio Los Romero were awarded.
Arabba group of the Casa de Cultura Municipal Pablo Quevedo, municipality of Unión de Reyes, Matanzas, is a 60-year-old community group of percussionists playing Yoruba folk music.
In the province Las Tunas, theres la Conga Los Mau Mau, with over half-a-century-old following, set up in 1953, always present in carnivals and an other popular events. In regard of the wooden carving project Blanca Rosa Chacón from Dirección Municipal de Cultura de Gibara, Holguín, it was awarded for the beautiful finísh of the pieces exhibited, all of them rooted into the local art tradition.
Mateo Sánchez conga and comparsa is a veteran dance institution in
Holguín. Mateo Sánchez-based community with over four-decade-old history Mayarí municipality. Also Trio Los Romero from Casa de Cultura Municipal Joseíto Fernández, Moa also in the province of Holguín followed musical heritage since its foundation in 1945 formed from a previous band Pepe Romero.
likewise special recognitions went to top figures of the Centro Cultural Nicolás Guillén in Camagüey namely Nazario Salazar, best known as the artist of versatility, Zaida Leonor Montells Mendoza for her research work on local oral traditions and art expressions.
Memoria Viva Award 2006 returns to reward sustainable works created to preserve Cuban national identity.
Source: CubaSi
---
Related News
---