Letter of Silvio to the town of Talca
Submitted by: admin

05 / 17 / 2007
---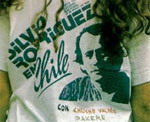 The defense of Dr. Eduardo Contreras has made clear that I have not committed any offense and at no time I sought to offend the town of Talca. However certain media has rushed to say that I am punishing myself. They are trying to fake my honest desire to sing to the peoples, as if the request forwarded to the Chilean presidency, before the suspension of the concert and based on a constant practice, could be masqueraded to make it look as regret. They try to make people believe that my perseverance in singing for free, expressed in the hearing by my lawyer, is a rectification for calling off the concert.

What will I regret of? Of refusing to give a concert for which highly expensive tickets had been sold, in the poorest areas of Chile, in a theater for a thousand people? To feel regret for being a worker of culture and not a good of consumption?

I clarify that in my case theres not solution. I don't have neither I search the babbling of those who suddenly wanted to be others. Whats more: I agree with my implication, no matter what may come. I feel that I sing with Victor Jara, I love Violeta Parra, I admire Manuel Rodriguez, the guerilla fighter murdered in Tiltil. They are the first members of my Chilean family and they symbolize my arch of alliances. I understand that people here and there hate me for not betraying Cuba neither Chile and they do things that might hurt me. But colossal forces havent been able to snatch me from Cuba and nobody will snatch me from Chile.

I will return to Talca as soon as I manage to have the logistical resources to give the concert that deserve those who wanted to hear me and could not afford to pay such expensive tickets. I will sing for those who bought their tickets and all of the sudden there was no concert... and preferred not to accuse me. I won't do anything of this as penitence, but because my songs come from a people like yours and seen your families completes them.

Thank you and well meet then.
Silvio Rodriguez Dominguez,
Havana May 15, 2007.

---
Related News
---