Las Tunas steel mill also produces science and technology
Submitted by: admin

06 / 21 / 2007
---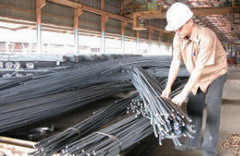 Anyone who sees the big pit as it swallows the metal scrap that a crane puts into it, the high temperature of the furnaces, the bubbling red hot magma, and finally the metal ingots, would think that this plant only produces steel...

But Dr. Juilio Leyva Salgado has many reasons to affirm that the Las Tunas steel mill also produces science and technology.

A good example could be the eight research papers that were taken last year to a scientific event in Havana, in which all the projects were praised by the jury.

But the importance of this issue goes beyond any numerical or comparative evaluation, even though no productive entity from Las Tunas had had such an active participation in that type of events before.

Anyway, the true value of such talent lies in the solutions it brings with it in order to keep the quality standards of the plant and prevent any interruption in operations, as occurred a decade ago when it stopped for several months because of technical failures.

The Work of Many People

In March 2007, hundreds of men and women gathered at the entrance of the steel mill to congratulate many of its innovators.

Among them is engineer Pastor Rodriguez, winner of the prize for the contribution with the highest economic value in Cuba, for the creation of a technology that allows for the production and export of a large amount of top-quality steel destined for the international car-making industry.

But as Dr. Leyva says, "the pride of 1 200 workers is not only for that award granted every year by the Ministry of Science technology and the Environment, they know well that without the talent of men like Luis Enrique Torres, who helped recover an important turbine, the plant would have stopped or the cost of production would have risen enormously."

Other innovators and working teams share similar merits, such as the one led by Waldemar Leyva Reynaldo, who introduced changes in the machinery to substitute imports and save energy in a plant whose power consumption is the equivalent of 70 percent of the province's overall energy demand.

Source: By Pastor Batista Valdes, Periódico26
---
Related News
---