La Moka an almost virginal refuge
Submitted by: admin

10 / 28 / 2006
---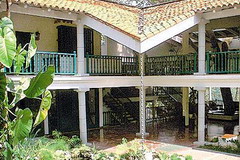 The balance between tourist activity and the preservation of nature characterizes the twelve years of work of La Moka, the most monumental hotel of Sierra del Rosario, in the northeast of the Pinar del Río province.
The personnel are one of those who keep with enthusiasm in the territory the Environmental Recognition, granted by the Ministry of Science, Technology, and Environment.

With a name inherited from a coffee plantation of the XIX century, this hotel mixes with the exuberant vegetation of Sierra del Rosario, one of the six Cuban biosphere reservoirs in which environment exist several tourist facilities, like the village of Soroa and El Mirador, in San Diego.

The other Biosphere Reservoirs are Guanahacabibes (Pinar del Río), Cuchillas de Toa (Guantánamo-Holguín) Baconao (Santiago de Cuba), Zapata Marsh (Matanzas) and Buenavista (Sancti Spíritus). At the same time, the two Places of World Importance are the National Parks Desembarco del Granma and Alejandro de Humboldt.

The six Ramsar places, in allusion to the Iranian city of equal name, is the Zapata Marshes and Lanier, to the south of the Isle of Youth, Buenavista, Gran Humedal in the North of Ciego de Ávila and Delta del Cauto.

In La Mokas case, the architecture casts a spell on the visitor, because a carob tree serves as center of the construction which shows prevalence of colonial elements and viewpoint where to appreciate the exceptional panoramic of the tourist complex Las Terrazas, stretched throughout five thousand hectares of wood.

With 26 rooms, it stands out for its contributions to the preserving action of biodiversity, because its a starting point for national and foreign tourists, engaged in appreciating and taking care of the flora and fauna of the place.

This is a successful experience of rural development with solid grounds on tourism and its distinctive feature is the harmonic coexistence with the nearby community of Las Terrazas, where almost a thousand residents carry out the safekeeping of environment and participate in the co-called smokeless industry.

Only 45 minutes away from the Cuban capital, La Moka marks the take off of visitors into an immaculate world of a hundred of species of birds, rich flora, near 70 ruins of coffee ranch properties of colonial times, lakes and rivers ideal for the adventure.
Source: CubaSi
---
Related News
---