Josephine Baker: a great a friend of Cuba
Submitted by: admin

10 / 22 / 2006
---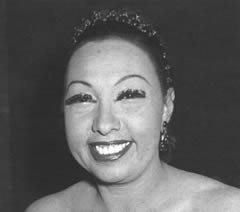 With her spectacular dance of the bananas, she became the Queen of Paris nightlife. In 1950, when Josephine Baker, the celebrated African-American artist, first visited Cuba, she was denied lodging at the National Hotel because of the color of her skin. But, in 1966, the Cuban stages were again illuminated by her presence.
That year the extraordinary US singer arrived in Cuba as an illustrious guest. However, some years before a National Hotel employee, carrying out strict orders, had told her in a voice which intended to be polite:
- Madam, we are at the peak of the tourist season; we don't have a single vacant room.
It was the management's excuse for refusing to accommodate the black artist. A scandal blew up in the press and Josephine, with her well-known majestic dignity, stayed at another more modest facility.
In 1950, the Queen of French musical revues came to the Cuban capital from Mexico. During five weeks the America Theater was packed full. She sang songs from her select repertoire accompanied by her husband, Jo Bouillon, violinist and orchestra conductor. Her dramatic talent became evident when she interpreted Mary Stewart of Scotland, as she had done in the Folies Bergere in Paris.
During one of the shows, somebody yelled out to her from his seat:
- And, the bananas?
And, she quickly answered:
- I ate them up during the war!
A lot of time had passed since that first time. Now, Josephine returned as special guest of the Tricontinental Conference. This time she performed in the Amadeo Roldan Theater, she toured Camagüey and three thousand people applauded her enthusiastically in a sports arena. Tireless, she visited the Sierra Maestra mountain range, where she felt the scent of the old French coffee plantations at Gran Piedra... and, mainly, made contact with the people. And, the human landscape dazzled her.
Cuban comedian Carlos Ruiz de la Tejera accompanied her on one of her tours in Cuba. "Josephine Baker captured the essence of the culture of her time and she reflected it in her shows. She used texts by the best poets, songs about love, about life. She struggled hard against racial discrimination and she was granted the French Legion of Honor award for fighting against Fascism.
"I remember her kindness, her love of mankind. In her trip to Cuba she brought along her adopted children, one of them picked up, as she told me, from a garbage can. Being next to her confirmed many of the ideas I had about what an artist should be like: how to concentrate, how to get ready psychologically before a public presentation. Between shows she did some exercises to relax and to keep in shape: thanks to that, at 60, she had a truly enviable figure and agility.
She was born in 1906 in Saint Louis, USA, to a very poor family. She fell in love with dancing while she was still a girl; at the age of eight, she made her first performance. As an adolescent, she performed in the New York Music Hall and in Harlem's Plantation Club, where her success grew. She was contracted to star in the Black Revue and Paris excitedly surrendered before her art, which revalued night club entertainers.
With her spectacular dance, with bananas hanging from her hips, she revolutionized the Paris nights and became a Folies Bergere exclusive artist. She began as a singer at the Chez Josephine cabaret and she premiered her revue Paris qui remue. Two songs which traveled around the world made her internationally famous: J'ai deux amours and La petite Tankinoise.
She worked in several films, such as The Princess Tan Tan, with music by her beloved friend, Cuban composer Eliseo Grenet.
Josephine Baker undertook one of her last battles in Les Milandes, the old French castle, where she educated her 13 adopted children and from which the owner tried to evict her for a delay in paying the rent.
Finally, ill, almost frozen to death, the artist who dreamt a beautiful dream was hospitalized. Her dream: to create the universal school of fraternity. The project had begun several years before: Platanitos (one of her artistic names) became a mother of orphans from different nationalities whom she wanted to educate without any racial or religious prejudices.
Her greatest desire was to establish a center where 400 children from all over the world could learn to live as true brothers. A chapter of Josephine's life had been dramatically closed and, for the moment, her hopes were cut short.
She returned to the stage, which she illuminated with her gaze. Beyond all the insults and injustice, Josephine Baker stood out to reign in the Paris nights. "I return to the theater for my children. Many say this come-back is madness, being old and rich, that it is imprudent. But, the fact is that I am not rich! I am poor and I have to support my children".
In April, 1975, she performed at the Bobino Theater to celebrate her 50 years in show business; she looked lively, always smiling, but her heart could not resist her fatigues, all the pain and emotions of recent times, and she died from brain congestion.
When she left, she took along her time, a myth which was forged in tumultuous Harlem and which faded under the skies of Paris.
By Maria del Carmen Mestas
Source: CubaNow
---
Related News
---