José Martí Park: A National Monument in Palma Soriano
Submitted by: admin

06 / 10 / 2007
---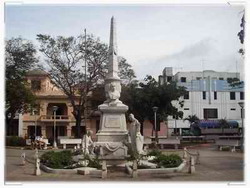 José Martí Park in Palma Soriano is a place greatly revered by people from this municipality. It is located in the downtown area, and is an exceptional witness to important occurrences in the cultural and political life and of the traditions of generations.

José Martí, Cubas national hero, died in combat, fighting for the independence of Cuba on May 19, 1895 in Dos Ríos.

At approximately 2:00 pm that day, a Spanish column of 700 soldiers led by the lieutenant-colonel Michelena marched towards Santiago de Cuba city along the islands Royal Highway carrying José Martis body.

Several days later, on May 25, the column arrived in Palma Soriano, where they stayed the night in order to continue the march early in the morning.

That night, Martís corpse was exhibited in the Square under extreme security. The short period that Martis body rested at this site was so significant that after the advent of the pseudorepublic people began calling the main street and the square "José Martí."

In 1910, the Municipal Major in Palma Soriano sent a letter to the council in the Oriente Province asking senators, representatives and councilmen for funds to beautify the site.

It was precisely in this city, in José Rafael Estradas house, that the pieces of the monument made in Italy were stored for their later carrying to Dos Ríos - the place where José Martí died.

Due to the difficulties in carrying the monument pieces to Dos Ríos, Valero Hernández Ochoa - the mayor of the municipality - had the chance to propose to the people to place the monument in the park which has been named José Martí since then.

The people involved with assembling the monument decided to inaugurate it on May 20, 1913; however, this was not possible because the municipal government did not have the necessary funds. For that reason a group of neighbors congregated in the Constitutional House and agreed to create commissions to collect donations and to schedule what they were going to do. A monetary contribution form the Veterans of the War of Independence also helped to realize the project.

This mournful and beautiful work in which there are references to the life and work of the Cuban national hero was officially inaugurated on May 20, 1913 in a solemn ceremony in the presence of the major-general of Cubas War of Independence, Jesús Rabí, who had tried to recover José Martis body on his way to Santiago de Cuba.

In Palma Soriano this historical place was declared a national monument on May 19, 2003 marking the 150th anniversary of José Martis birth.

---
Related News
---