IOC president arrives in Cuba for sports congress
---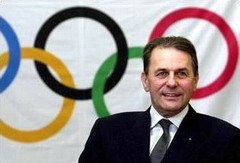 IOC president Jacques Rogge arrived in Cuba on Tuesday for a three-day visit in which he'll inaugurate the international Sport for All Congress and meet with the island's top sports officials.
"It's a great pleasure to be in the congress, and to see my friends from Cuban sports," Rogge, who last traveled to Cuba in 2003, said at the airport. "We are going to cover issues of great interest."
Jose Ramon Fernandez, the president of Cuba's Olympic Committee, received Rogge and his wife Anne Bovijin at the airport. Rogge was to attend the congress' opening ceremonies on Wednesday and give a press conference on Thursday before traveling to Jamaica.
More than 1,000 health and sports specialists from 132 countries are expected to participate in the congress, an IOC-sponsored event held every two years.
This year's congress, which runs through Friday, will focus on "the benefits and challenges of physical activity."
Rogge's visit comes as Cuba battles to get baseball, its national sport, back on the Olympic roster after it was dropped last year in an IOC vote. Baseball has been an Olympic sport since 1992, but will not be part of the 2012 London Games.
The earliest it can win reinstatement is 2009, when the IOC considers the sports program for the 2016 Games.
Fernandez and other officials are expected to bring up the issue with Rogge, who has also requested a meeting with Fidel Castro, currently recovering from intestinal surgery.
Cuba is a powerhouse in baseball, clinching the gold medal in the Olympic Games in 1992, 1996 and 2004.
Source: International Herald Tribune
---
Related News
---