International Festival of Rock in Cuba
Submitted by: admin

05 / 05 / 2007
---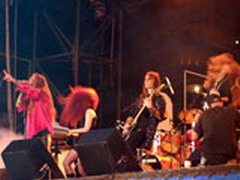 The III International Festival Caiman Rock (CR) 2007 will take place in Cuba from July 17-21, sponsored by Hermanos Saiz Association announced organizers.

Exhibitions, concerts, conferences, presentation of specialized magazines and CDs launchings make up the program of the meeting that takes place every two years.

Almost a hundred rock groups participated on 2003 and 2005, including Carajo (Argentina) and Sugarless from Spain, as guest bands.

As an introduction to the event, the Award Design of Identity attempts to encourage the treatment of the image and projection of groups in the categories of logo, poster, billboard and sticker, among others.

Cuban rock had an important boost in the 90s with the appearance of groups like Paisaje con río (Landscape with River), Extraño Corazón (Strange Heart), Expreso inconexo (Express Unconnected), among others.

Experts assert that even today the more than 50 groups of the rock panorama in the country have insufficient promotion in the media.

The repercussion in the public can be established in the large number of festivals that take place every year like Ciudad Metal, Rockasol, the Athens rock, and Metal HG.

The previous CR, according to local critics constituted the trial of the definitive establishment of this musical trend among the most excellent Cuban creators.

Among the paramount examples of the genre we have Hypnosis, Trival, Tesis de menta, Agonizer and Zeus that play heavy metal, death metal, alternative rock, and punk.

Other bands like Viento Solar and Gens focus on the rescue of sounds from the 60s, 70s and 80s, with a significant support of rock lovers.
Source: CubaSi
---
Related News
---