India, Cuba team up in drugs, oil and wind energy
Submitted by: admin

02 / 16 / 2007
---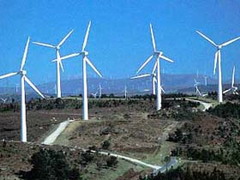 By Anthony Boadle
India and Cuba are forging closer economic ties through cancer vaccine research and oil exploration in the Gulf of Mexico, officials said this week.
Indian Minister of State for External Affairs Anand Sharma, who ended a visit to Havana on Wednesday, said the longtime Third World allies also will train a Cuban team in wind energy technology among a growing number of areas of cooperation.
"We will see a leap in cooperation between India and Cuba ... based on a solid political understanding," Cuban Vice President Carlos Lage said after meeting Sharma on Tuesday.
Cuba wants to tap India's information technology advances, while a biotech joint venture opened last year in India is producing vaccines for a treatment of neck and head cancer developed by Cuban scientists.
"The clinical trials for some of the vaccines are almost over and they will be marketed soon. This is one area where Cuba is a world leader," Sharma told reporters.
India is encouraging its private pharmaceutical firms to seek deals with Cuba's biotech industry, and the two countries agreed to supply each other with generic medicines, he said.
New Delhi agreed to reschedule Cuba's trade debt with India and forgive accumulated interest payments, Cubans officials said. They gave no figures.
ONGC Videsh Ltd (OVL), the overseas subsidiary of India's state-owned Oil and Natural Gas Corporation, has opened an office in Havana after signing up last September to explore for offshore oil in two blocks of Cuba's Gulf of Mexico.
OVL is already a partner with Spain's Repsol-YPF and Norway's Norsk Hydro in six blocks in an area where three years ago Repsol found good quality oil, though not in commercial quantities.
A Repsol executive said the consortium would finish seismic studies in two months and decide whether to drill another well, which would take a year to prepare and contract a rig.
India has maintained close ties to Cuba since its first prime minister, Jawaharlal Nehru, met Cuban leader Fidel Castro in New York in 1960 before the creation of the Non-Aligned Movement of developing nations. Communist-run Cuba heads the movement for a second time since a summit in Havana in September.
Castro was absent from the summit due to emergency surgery that forced him to relinquish power temporarily to his brother Raul in late July.
Sharma said he saw "very strong continuity and stability" in Cuba during his meetings with senior Cuban ministers.
"They did say his health is stable and he has made improvements," Sharma said. Whether or not Castro will return to public office will depend on his doctors, Sharma said.
Source: Reuters
---
Related News
---