I Take Cuba with me: Benito Zambrano
Submitted by: admin

11 / 28 / 2006
---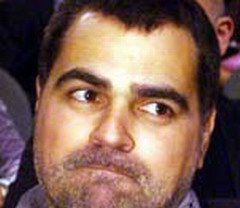 Spain Benito Zambrano, film producer laureate, is visiting this city as a member of Andalucia delegation to this fair, and said to Prensa Latina that he takes Cuba with him.
Zambrano, a graduated student from San Antonio de los Baños Movie School, was awarded with a Goya prize for his first work Solas, an impressive story on the consequences on (1936-1939) Spain Civil War.
Afterwards he filmed TV series Padre coraje, a program with a large audience in his native country, and in 2004 Habana Blues, award-winning film in new Latin American Film Festival and Goya for the best sound track.
Habana Blues, a film that deals with today's Cuban youth and Cuban alternative music, was the spearhead of Andalucia invasion to the 20th International Book Fair in Guadalajara, where Lorca, Picasso and Alberti homeland is guest of honor culture.
The author in an interview with Prensa Latina answered these questions:
- How has Habana Blues film been favorably accepted internationally? -It was favorably received in the places where it has been shown. Despite Spain production dilemma regarding the market controlled by powerful transnational, the film has kept on having success.
- Why did you after trying a Spain topic like in Solas or Padre coraje, begin trying a Cuban one? -That has a lot to do with my stay in Cuba, which took more than two years.
I wished to show the world a happy and creative country.
---
Related News
---