I am gaining ground, says Fidel Castro
Submitted by: admin

02 / 28 / 2007
---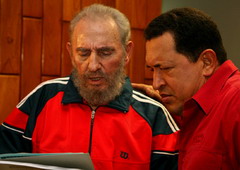 Cuban President Fidel Castro said on a phone talk with Venezuela's Hugo Chavez that he is gaining ground in his recovery "with more energy and strength, and time to study."
At a surprise phone call to the radio program "Alo Presidente" on Tuesday, the Cuban leader talked on his health, international current issues and the Venezuelan process, and expressed gratitude for "examples of affection and strength."
After a comment made by Chavez, who compared the Cuban president's dedication to study with the Venezuelan education campaign denominated "Moral y Luces," the Cuban leader praised the scope of that program.
"This is the first time," stated Fidel Castro, "I see someone trying to gain this moral battle to conquer people's inwardly, heart and mind."
By pointing out that many people are grateful to Chavez give information on his state of health, Fidel Castro said he cannot be talking every day "they cannot have the habit of hearing from me daily. I request everyone to be patient and keep calm."
"But I am happy, everybody is calm and the country is making important progresses, and I also request peace for me, to fulfill my new tasks," added the Cuban statesman.
On the other hand, Chavez, who admitted being a source of the revolutionary leader's recovery, example and perseverance, said he plans to travel to Havana soon, to continue this talk.
After asking an applause from the audience attending the program, broadcast from the Miraflores Presidential Palace, Chavez termed the Cuban president a "comrade, and you know I am not got a complex: I call you father in front of everyone."
Source: Prensa Latina
---
Related News
---