House bill eases travel to Cuba
Submitted by: admin

02 / 01 / 2007
---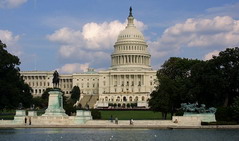 By William E. Gibson
Citing the heartbreak of divided families, House members introduced a bill on Wednesday that would allow Cuban-Americans to visit their relatives in Cuba as often as they wish and take as much money as they want.

"I look at this as an emergency. This needs to take place right now," said Silvia Wilhelm of Miami, a travel-rights advocate eager to visit her cousin in Cuba. "Lots of people are suffering on both sides of the Florida Straits."
The House bill is the latest of several measures in Congress designed to chip away at the U.S. embargo of Cuba.

A separate bill introduced last week would remove travel restrictions for all Americans, not just Cuban-Americans. Farm-state members plan to introduce another bill next week to remove restrictions on financing to ease food sales to Cuba. Yet another bill already filed would allow Cuban baseball players to come and go between this country and the island.

The political climate improved for this kind of legislation when Democrats took charge of both chambers of Congress this year, bringing new leaders more receptive to changing the embargo. The shifting winds in Washington and potential change in Cuba because of the debilitating illness of Fidel Castro have revived long-standing attempts to break down barriers between the countries.

Embargo opponents on Capitol Hill are striking first at travel restrictions, knowing they are the least popular form of economic sanctions.

Pressured by anti-Castro hardliners in Florida, President Bush tightened those restrictions in 2004 by limiting the amount of money Americans can send to Cuba and allowing Cuban-Americans to visit close relatives only once every three years.

The House bill -- introduced by Reps. William Delahunt, D-Mass., and Ray LaHood, R-Ill. -- would allow Cuban-Americans unlimited visits to their relatives.

"This bill is an effort to change an immoral policy, one that has caused pain and suffering to our own citizens as well as the Cubans," Delahunt said at a Capitol news conference. "It's startling in its cruelty."

Wilhelm, executive director of the Cuban American Commission for Family Rights, said the restrictions have prevented hundreds of South Floridians from visiting family members even when they are seriously ill.

The White House has consistently contended that sanctions and travel restrictions prevent American dollars from propping up the Castro regime.

"Every dollar that goes to Cuba goes directly to the Cuban government," said Frank Calzon, executive director of the Center for a Free Cuba, based in Washington. "Families will take that money, go to Cuban-government stores and pay a very high price for whatever they want to buy.

"Denying Castro hard currency means he has less money to repress the Cuban people and mount anti-American activities around the world."

Calzon, nevertheless, calls the current travel restrictions "absurd" and suggests changes designed to block the flow of tourism dollars but allow family visits, especially during health emergencies.

Embargo opponents plan to keep pressing for change in U.S. policy, knowing they face opposition from Cuban-American members from South Florida and a potential presidential veto.

"The climate is here to make some changes," said Rep. Jose Serrano, D-N.Y., who introduced the bill to allow Cuban baseball players to come to the United States and return to Cuba. "But as long as the president feels that Cuban-Americans are the Republicans' only Hispanic vote, I can't see him wanting to do anything for Cubans."
Source: Sun-Sentinel.com
---
Related News
---