Hemingway didn't abandon Cuba
Submitted by: admin

03 / 10 / 2007
---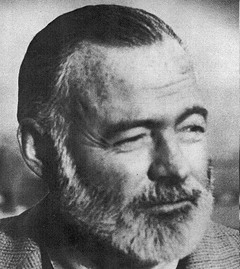 When in 1961 Ernest Hemingway left Cuba, after living in Cuba for two decades, the author of The Old Man and the Sea didn't know that would be the last time. He left with the Island with the idea of returning. He didn't abandon Cuba, affirmed Valerie Hemingway, the secretary and former daughter-in-law of the North American writer.
"Here he had his home, his friends, and his boat.
He hoped to return", declared the journalist and writer before Cuban and foreign colleagues as well as studious of the life and work of the North American Nobel Prize at the headquarters of the International Institute of Journalism José Martí, in Havana. "North Americans don't understand what Ernest went through when he left Cuba. Some think he was against the revolution, others that he was in favor, but in fact they don't know anything. I think that the fact that he could not return, accelerated his depression", said Valerie in a session of questions and answers after delivering the conference The Journalism Hemingway Taught Me.
Valerie Hemingway traveled to Havana in the search of information for a book entrusted by the Smithsonian Institute to her on her mentor. This is her sophomore visit to Cuba since the narrator's death in 1961. Soon after the funeral of her "employer and friend" accompanied the widow Mary Welsh to the Island to give legal course to the writer's testament. In year 1999 she returned to participate in a colloquy on Hemingway for his centennial.

But 47 years ago, this Irishwoman from Dublin, lived in Cuba. She arrived in Havana on January 27th, 1960 to settle with the Hemingway in the Country House Vigía, the residence of the marriage in the Cuban capital. She had worked as the novelist's secretary for less than a year, whom she met in Spain.

"Hemingway was very fond of Cuba, but he was always considered North American. He saw himself as a North American writer, but he felt he didn't have to reside in the United States", Valerie explained. The writer remembered that in a conversation she witnessed between Hemingway and the North American ambassador in Havana, soon after of the triumph of the revolution in Cuba, the narrator emphasized "I am a writer; I don't get involve in politics". Although he was always aware of the situation the country was going through and he was quick on the update of everything about Cuba through the press", Valerie explained.

"What Ernest was most impressed about Fidel Castro was his humility", remembered the ex-secretary of Hemingway. Valerie said that she witnessed an encounter between both of them, in which according to her, the then First Cuban Minister, "the President of a country, a great man", treated the writer as if it was the other way around.

She regretted the narrowness of perspective of the North American politics regarding Cuba which prevents citizens of that country to travel freely to the Island. "North Americans are missing the flavor because it was here where Ernest spent most of his life", asserted Valerie, who now resides in the United States.

Valerie traveled once again to the place that once was her hosts home since 1940, recently refurbished with Cuban funds and resources. "The atmosphere of the Property (Vigía) is something that should witness those who are interested in his literature."

There, in the rooms dedicated to guests, in the bungalow above the garage, Valerie settled. She adopted the last name of her illustrious friend and teacher after marrying Gregory, the minor of Hemingways children.

In her new job her "two most important tasks were to know how to drink and how to listen", she revealed. After hours spend sat at the table, eating, and drinking and speaking about anything, "he either dictated letters or he asked me to reply them myself ". sometimes, while they spoke, Hemingway asked her, "please, remembers this", or he handed her a small piece of paper in which he requested her to add this or that other sentence to the manuscript that Valerie was typing.

"Besides working for him, we were friends. He was a very good friend. I was very lucky, because as an enemy he was very bad", Valerie commented. The friendship among them began in 1959.

The newspaper Irish Time requested the still rookie Valerie Danby-Smith who was making her first jobs as a journalist in Spain to interview the narrator. Valerie who was then 19 years old, was overflowing with desires to track down and face Hemingway, but she lacked the essential: she didn't know absolutely anything about the novelist. "In Ireland we didn't regarded him as a good writer, most of his books were even forbidden", she remembered.

She found him at the hotel Suecia, in Madrid where the novelist had traveled to write on bullfighting, one of his passions. The only question she made him, in charge by the Irish Time, was the strong evidence of her ignorance. "Mr. Hemingway, why hadnt you ever returned to Spain after the Second World War"?. "he looked at me surprised". Hemingway visited Spain in 1953 and 1956. "After that, I changed the subject and I spoke to him of Ireland and of the Irish writers he knew. And that was when he gave me the first piece of advice", said Valerie. "If you want to triumph, you should forget about Ireland and learn everything about the country where you are", Hemingway told her.

Right after that the writer gave her a list of places that she should visit and people whom she had to meet and she proposed her to go with them to Pamplona for the Party of San Fermín. She accepted the invitation and right there began the second round of lessons: to observe attentively, to have instinct for the news, to be exact, to check the data over and over, to be curious, to investigate and keep receipts, tickets and any document that later would help remember and work as evidence.

"Ernest was about to turn 60 years and Mary was preparing a spectacular party for him". Around those days, the novelist asked the girl if she wanted to be his secretary during that summer. "I thought about it, but not much and I accepted. She told me that traveling with him, she would learn much more about how to be a good journalist. Five months later he asked me to accompany him to Havana. That time I didn't think it twice."

But neither now, nor after clarifying in his book Running with the Bulls: My years with the Hemingways, published in 2004 that she was never intimately involved with the writer, Valerie got rid of the insistence of journalists on the alleged romance.

"I think he liked me. Once he told me that every ten years he fell in love and as a result he wrote a new book. I suppose that when he met me, he thought that he would write another great novel. But sadly it was not like that", she clarified. "For me, he was always an old man and I was only interested in the teachings he passed on to me."
Source: CubaSi
---
Related News
---