Haydée Milanés in Puerto Rico
Submitted by: admin

12 / 16 / 2006
---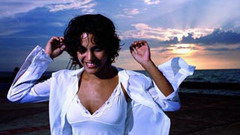 By Uriel Medina
Young Cuban singer Haydée Milanés to perform in several recitals this December in Puerto Rico, where she arrived after her performances in New York, also accompanied by her new CD, whose sleeve only carries her name, Haydée, and in which she sings works by the also Cuban instrumentalist Descemer Bueno and that will be promoted in Latin America and Europe.
Mixture of several rhythms and genres, the album introduces her as a soloist into something that, she has declared herself, "its like me, a mixture of pop, bolero, bossa nova, trova and jazz, but always very Cuban".
Aged 26 and daughter of one of the greatest figures of Latin American song, Pablo Milanés, the also pianist has collaborated with personalities of the stature of Stevie Wonder, Ellis Regina and Fela Kuni.
Eager to find her own style, Haydée has also recognized before Puerto Rican critics and fans: "My father gives me a lot of strength. He was the first who liked the disc. We have worked together on stages and with my sisters Lynn and Suylen. We never thought to get together in the disc production. In this case, I am doing it independently".
But the young Cuban singer highlighted before the Puerto Rican press that her first vocal performance known abroad appeared in the CD "Canto de la abuela" (1991), by Pablo Milanés.
She has some links with jazz, given she participated in a quartet in the 1998 edition of Sao Paulos Heineken Jazz Fest, in Brazil, and has also devoted herself to go in-depth on learned music, as she did when she studied lyric song in Switzerland for a short period.
"That course was very short. I took and taught lessons. It was something that called my attention since I was studying classical music when I was a child. There I had the opportunity to reencounter myself and to rediscover that I had to open up a bit more and to return to my Cuban roots too. It was difficult to make that music and to combine it with another".
But it was in Cuba, where Haydée began to compose songs, "two or three of which she expects to include in her next album, maybe to carry on the imprints of her famous father too.
Source: CubaSi
---
Related News
---