Havana Rock Festival coming in july
Submitted by: admin

06 / 21 / 2007
---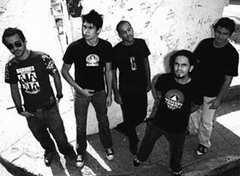 The popular Panamanian band Factor VIII considers it a "great honor" to attend the Caiman International Rock Festival to take place in Havana from July 17 to 21.
From Panama, Erick "Laggarto" Santamaria, the groups base player, said by e-mail: "We are very happy about the Cuba trip. For us it is a great honor to visit your country. We are very excited about visiting and playing in a place as historic as the island. We will all be going convinced that it will be an experience to remember."
The group, invited by the Hermanos Saiz Association, which sponsors the third edition of Caiman Rock, plays punk with influences of alternative rock and metal.
The base player, a lover of "good metal" and "the salsa of artists like Willie Colon, the Fania All-Stars, Perez Prado and Benny More," explained that a major part of the musical chemistry within Factor VIII comes from different musical tastes.
"Our drummer, Juan, is a big fan of punk, folk, and the music of the 1950s and 60s. Tutin, the singer, likes the indie sounds of different periods. Coloreto, our lead guitar player likes the heavy metal sound of groups like Helloween, Iron Maiden, Poison and Black Sabbath. Tito, the rhythm guitarist, likes both new and old punk, as well as listening a lot to groups like Pixies and Sonic listening a lot to groups like Pixies and Sonic Youth," wrote Santamaria.
In concluding the Panamanian said, "You can expect to see of us in all our performances in Cuba."
Source: Michel Hernández, Granma
---
Related News
---