Haiti Foreign Minister calls Cuba an example of cooperation
Submitted by: admin

04 / 27 / 2007
---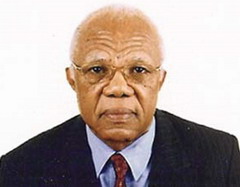 Foreign Minister of Haiti Jean Renald Clerisme, currently on an official visit in Havana, on Tuesday called Cuba's collaboration with his country an example to follow.
In statements to acn, the minister said Cuban assistance should serve as a pattern for South-South relations, and mentioned for instance that all the agreements are unconditional, and praised the quality of the experts and the services provided.
The Haitian official held talks with Cuban Deputy Minister for Foreign Investment and Economic Cooperation Orlando Requeijos.
Clerisme spoke on behalf of his people to thank the Cuban people for their solidarity and humanitarian help.
Requeiros for his part said both nations are fulfilling e the accords subscribed for the 2006- 2007 period ahead of schedule.
The Creole version of the Cuban teaching method Yo si puedo "Yes, I can" will be used in Haiti as soon as the editing is completed.
There are Cuban medical brigades in 116 out of the 133 districts of the country, and a sugar cane factory has been successfully built and installed.
Jean Renald Clerisme is scheduled to leave the island this Thursday.

---
Related News
---