Habanos Fest to auction valuable humidors
Submitted by: admin

03 / 03 / 2007
---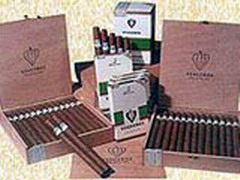 Valuable humidors related to Cuban habanos were auctioned on Friday during the closing ceremony of the Ninth Habano Festival, in the presence of over 1,000 foreign people at the EXPOCUBA exhibition center.
According to organizers, the year's edition included five lots of cigar humidors, made of the island's hardwood and the most selected cigars.
The first lot is an H.Upmann Humidor that recreates the most important attributes of that brand, manufactured by artisan Joel Crespo, made of mahogany, cedar and "majagua" containing 160 cigars.
The second lot is a Partagas Humidor, donated by Swiss Michel Perrenoud, with 120 vitolas inside a pyramidal structure, created by artisans from that European nation.
Vegas Robaina Humidor, as the third lot, is celebrating 10 years of existence of that brand, created in 1977 and made by Cubans Jose Luis Milan, official biographer of the harvester, and Adalberto Gonzalez, member of local DECUBA artisans group.
The fourth lot includes a Portrait by Compay Segundo and the Montecristo Humidor, a box for 250 cigars created by artisan Jose Ernesto Aguilera and consists of several sculptures in silver, alpaca and bronze.
And the fifth and last lot presents the most spectacular work dedicated to Cohiba brand, alluding women cigar makers, carried out by sculptor-goldsmith Raul Valladares, who also creates the Habano Award statuette every year.
Source: CubaSi

---
Related News
---