Guilty pleas in Cuba spying case
Submitted by: admin

12 / 19 / 2006
---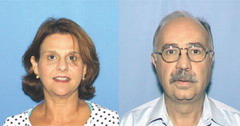 A psychology professor and his wife pleaded guilty Tuesday to reduced federal charges in a case involving allegations that both had spied for the Cuban government for decades.
Carlos Alvarez, 61, pleaded guilty to conspiracy to become an unregistered foreign agent. His 56-year-old wife, Elsa Alvarez, admitted knowing about her husband's illegal activities but failing to report them to authorities.
Carlos Alvarez faces up to five years in prison and his wife up to three years on the revised charges. Both were charged previously with the more serious charge of acting as illegal Cuban agents, which carries a longer possible prison sentence.
U.S. District Judge K. Michael Moore set sentencing for Feb. 27.
Carlos Alvarez, a professor at Florida International University, was accused of spying for decades on Cuban-American exile groups and prominent individuals in Miami, as well as reporting on U.S. political affairs. His wife, also a university employee, was implicated to a lesser degree in the alleged spying.
The couple's arrests in January followed years of FBI surveillance, which included placing a listening device in the bedroom of their Miami home and wiretaps on their telephone. The FBI said Carlos Alvarez, known to the Cubans by the code name "David," used a short-wave radio and encryption techniques to communicate with his Cuban handlers.
Carlos Alvarez's lawyer, Steve Chaykin, said his client was never a Cuban intelligence agent and is not a supporter of Castro.
"His involvement with the Cuban intelligence agency was the result of idealism and naivete," Chaykin said.
Jane Moscowitz, attorney for Elsa Alvarez, said her client played a far lesser role. "Her offense is being a wife," Moscowitz said.
U.S. Attorney R. Alexander Acosta called the case "a stark reminder that there are among us some who, while enjoying the freedom and liberty our great nation offers, continue to serve the interests of another master."
The guilty pleas came after a federal judge last month upheld as evidence a lengthy statement Carlos Alvarez gave to the FBI in 2005. Alvarez admitted in those interviews he was a "collaborator" with Cuba's intelligence service beginning in 1977, but insisted he was mainly interested in opening dialogue with the communist government.
Carlos Alvarez's attorneys unsuccessfully tried to have that confession thrown out, contending that he was coerced into submitting to the FBI interviews and that he was promised immunity for prosecution if he cooperated. FBI agents admitted during hearings this summer that their goal was to recruit Carlos Alvarez as a double agent.
One conversation captured by the bedroom bug has Carlos Alvarez expressing relief to his wife that he'd told the FBI about his Cuban activities.
"Right now, for me, it was a relief that I was able to cooperate. It's been hell. It's been hell. I really saw it as a huge confession. It was an opportunity for me to confess what I've done wrong," he told his wife, according to government transcripts.
Carlos Alvarez has been jailed without bail since his arrest 11 months ago. Elsa Alvarez is free on $400,000 bail.
Source: Chron.com
---
Related News
---