Granma red hot in Cuba Baseball League
---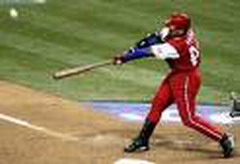 By Sigfredo Barrios
Norberto Gonzalez came on to pitch five strong innings of relief in the 4-2 Cienfuegos win over Ciego de Avila. Gonzalez (2-0) struck out three and allowed two runs on a triple by Yoelvis Fiss. A solo homerun by Yovani Lazo in the sixth inning provided the winning run for Cienfuegos.
Granma completed a series sweep of Metropolitanos with a 4-0 shutout and remained on top of Group D, with Manuel Vega pitching seven innings backed by a homerun from Marcos Naranjo. Granma is now 9-3 after two weeks of play.
Industriales, the current league champs, gave up only 1 run in 18 innings against the hard hitting Las Tunas to win both games of their Sunday double-header. In the opener, Arleys Sanchez (2-0) went seven shutout innings and a double by Yoandri Urgelles drove in two in the three-run fifth inning. Renier Roll picked up his first save for Industriales. Arleys, with 15.1 scoreless innings, is third in the league.
Industriales took the second game 4-1 with Sandy Ojito (1-1) getting the win on 7.2 innings striking out six without issuing a walk. The game was decided in the first inning when Alexander Mayeta smashed a three-run double.
The Isla de la Juventud and Guantanamo split their double header on Sunday. In the first game, Guantanamo pounded out 14 hits to win 9-5 led by Roberquis Videaux 3-for-5 with a triple. In the second game won 7-1 by the Isla de la Juventud, lefthander Wilber Perez (2-1) gave up one run in 7.1 innings and Luis Yadier Fonseca drove in three with a homer.
In a tough pitching duel between Yovani Aragon (1-0) and Luis Borroto (1-1) "both members of the Cuban national team" , Sancti Spiritus defeated Villa Clara 1-0. Yoen Socarras picked up his second save. The games only run came in the first inning on a sacrifice fly by Frederich Cepeda. Aragon struck out eight in seven innings.
In other action on Sunday, Holguin shut out Matanzas 1-0 and Havana Province defeated Camaguey 9-8 with a three run bottom of the ninth and Michel Rodriguez going 2-for-5 with four runs batted in. The game between Pinar del Rio and Santiago de Cuba was postponed due to rain.
Cuban Baseball League Standings:
Group A
Pinar del Rio 6-5
Isla de la Juventud 4-4
Matanzas 2-10
Metropolitanos 2-10
Group B
Havana 8-4
Industriales 6-6
Sancti Spiritus 5-6
Cienfuegos 4-7
Group C
Ciego de Avila 10-1
Villa Clara 8-4
Camaguey 7-5
Las Tunas 3-9
Group D
Granma 9-3
Santiago de Cuba 7-3
Holguin 6-5
Guantanamo 5-7
Source: Granma
---
Related News
---