Global Solidarity School in Cuba from May 6 to May 11, 2007
Submitted by: admin

03 / 06 / 2007
---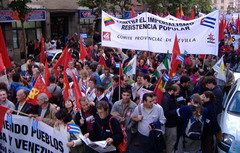 A group of North American labor, community, and academic activists are sponsoring the first annual Global Solidarity School in Havana, Cuba, from May 6 to May 11, 2007. Participants will have the opportunity to share ideas, experiences, and strategies with leading Cuban activist educators and international cultural experts. The idea is to bring together people seeking to build a better world.
Morning classes on subjects like the Spanish language, international relations, economics, the environment, and salsa dancing will be taught at Havana University. There will be guided afternoon tours to historic sites, artists studios, museums, Afrocuban enclaves, and contemporary cultural centers. In the evening, Solidarity School participants will visit Cubas best jazz clubs, an Afrocuban dance performance, and cabaret performances. Note that this is not your ordinary tourist trip as those who sign up will have immediate access to Cuban activists and intellectuals most visitors never meet.
The tuition is $1,600 in Canadian dollars per person, which includes double-occupancy accommodation and educational trips (but not airfare, transportation to and from the airport, lunches, departure taxes, or tourist cards). Single rooms can be arranged at $455 Canadian for the week. Participants will be accommodated at the historic Habana Libre Hotel where Che Guevara and Fidel Castro stayed immediately after the revolution. The included breakfast and dinner buffets at the Habana Libre are outstanding.
There will also be a May Day pre-school option for those that want to participate in some of the activities surrounding the 2007 May Day rally on Plaza de la Revolucion in Havana. This extension is scheduled for May 1 - 5. Activities include attending the May Day Rally (along with one million others), an international union delegate meeting sponsored by the Cuban union central, the CTC, and a two day free trade symposium. The cost will be approximately $1,000 to $1,200 Canadian.
About the Global Solidarity School
The Global Solidarity School in Cuba is an initiative of progressive Canadians involved in trade union movement and academic education. Cuba Education Tours in Vancouver can book this trip and arrange international flights.
Source: Havana Journal
---
Related News
---