German Choir Director praises cuban performance of Requiem
Submitted by: admin

06 / 05 / 2007
---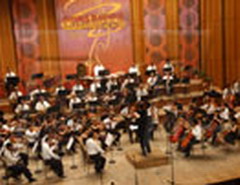 German musician Werner Pfaff said he was on cloud nine after hearing the performance of the German Requiem by the National Philharmonic Orchestra of Cuba along with a mixed choir of nearly a hundred singers.
The coral-symphonic theme that had not been sung in Cuba since 1944, is one of the most important musical works of Johannes Brahms. The concert marked the 110th anniversary of the death of Brahms.
Several Cuban choirs got together for the concert that took place on Sunday at the Amadeo Roldan Theater. The choirs including the Camara de Matanzas, Exaudi and Vocal Leo, Schola Cantorum Coralina, the Cuban Radio and TV Institute among others.
In statements to ACN, Pfaff said one of the highlights of the concert was the communication between the choir and the orchestra and the public response. He praised the close relation between the choirs which made it possible for them to convey Brahm's message.
The hard rehearsal work of the choirs was awarded with the ovation of the audience.
Wermer Pfaff, who has been the director of several orchestras in Europe and Latin America, expressed his desire to work with Cuban musicians in coral-symphonic programs.
He extolled the professionalism of Cuban singers and musicians who during an hour and a half demonstrated "a rhythmic variety and originality, as well as a high expressive value" of the most delicate and perfect musical work of the 19th century.
Choir directors Jose Antonio Mendez, Maria Felicia Perez, Alina Orraca, Corina Campos, Sonia Mc Cormack, Liagne Reyna and Teresa Paz were in charge of the arrangement of the voices.
Source: Adelante.cu
---
Related News
---