From 100 pounds up
Submitted by: admin

05 / 29 / 2007
---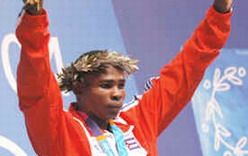 In a remote place of the eastern Cuban region called La Güira de Jarahueca- the Second Oriental Front - , the outstanding amateur boxer Guillermo Rigondeaux was born on September 1980.
However, he himself never thought of spending all his time boxing, he said to the reporter.
- Im a peaceful person and first entered the sports school late enough, aged 15. It was by 1995. Then many already recorded over 100 fights being in the school category.
Rigondeaux's boxing career can be termed as fast and successful following his debut at the Playa Girón National Championship 1996.
In 1998, coach Orbeín Quesada called the amateur for training sessions at El Wajay installation, what led him to rub shoulders with the national pre-selection teams members.
He also spoke about the close relationship with trainer Rolando Garbey, former 75 kg. boxer winner of Pan American Games Winnipeg, Canada (1967), Cali, Colombia (1971) and Mexico (1975).
- I get along with trainers, but particularly with Garbey, things are special in and outside the gym. Look, in eight years, I have lost only 5 fights out of 357 bouts. Since 2001, I was defeated only twice!
The last one was at the World Championship in Bankog, Thailand (2003) against Azeri Mammedov Agassi 16-13. it was the qualifying second round. I had defeated (15-1) the Polish Andjey Liczik.
But we did not get to fight in Athens, Greece (2004) because he lost (27-13) the semi-final vs. Worapoj Petchkoon (Thailand)
Regarding the fierce boxers losses, theres something very significant to say: the only rival, who could defeat him twice was Havana-born Waldemar Font in 1998 and in 1999, too,
Though a man of few words, the double- Olympic winner at the 2000 and 2004 Olympiads, he could describe almost in detail all his combats. Regarding his first Olympic experience in Australia he told:
- That event was unforgettable. There I turned 20 and promised myself to come back home with the gold medal. In the first fight I beat Moex Zemzemi (Tunez) with a KO decision in 23 seconds; the second one I got it on equal basis over the Japanese Kazumasa Tsujimoto. However, the Turkish Agasi Agaguloglu became hard to win in the first two rounds, despite of a favourable 14-5 vote. Neither did I get into trouble with my victory over the American Clarence Vinson with equal verdict.
- Now, its the turn for trainer Rolando Garbey. I asked him to tell me his triumphant pupils' top secret.
- Look, here theres no secret. Guillermo's main virtue is discipline. He complies fully with his training sessions knowing that in boxing the mistakes are paid dearly.
- What can you tell me about Rigondeaux's keeping the same body weight 54 kg?
- Its an important issue. He knows that if he losses weight all of a sudden, his blows do not have the same effect on men, who are taller than him. Fortunately, thats also part of his great boxing skills. Currently, hes at the top.
- Will he get the fourth Olympic title?
- Were not thinking of that now. Weve set our eyes on Beijing 2008 and anything else can cause us worries. The third gold is highly important. There will be time enough to take care of a fourth one.
Rigondeaux is the captain of the national pre-selected team made up of some 50 boxers. His behaviour-performance is exemplary, what enables to consider him the Worlds most Technical Amateur boxer.
"Above all I try to do my best up there. I study carefully all my rivals before coming out to fight, from the very first bell ringing. Defense is vital for any boxers because an unexpected punch can spoil months of rigorous training.
It could be said that most boxers only know to solve problems at a single stroke. Rigondeaux is quite the opposite side to those who think so.
Currently, this bantamweight fighter has got 84 consecutive victories, of them 18 in 2006, including the prize in Miangyang, Republic of China, apart from the titles in Cartagena and the World in team at Baku, Republic of Azerbaijan.
Who can doubt of our candidates values?
Source: By Jorge Alfonso, Cubasi
---
Related News
---