Free Software encouraged at Cubas Informatics 2007
Submitted by: admin

02 / 17 / 2007
---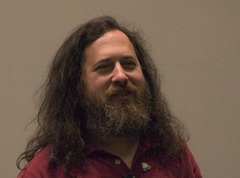 By Gabriel Dávalos
"Cuba has the right to obtain free software programs in any nation of the world, because our philosophy is to provide copies to the nations that need them," said Richard Mathew Stallman, President of the Free Software Foundation in a lecture Wednesday at the Informatics 2007 Fair and Convention taking place at Havana Convention Center.
Stallman, considered to be the father of the free software concept, declared that he opposes the United States blockade against Cuba and any thing that runs contrary to the freedom of knowledge or any other human right.
"We, the citizens of the world have to migrate towards a new context of liberty and solidarity in cyberspace," said Stallman.
The free software developer condemned the US government policy that in the name of a supposed national security and protection of its citizens is really depriving them of their freedom.
Julio Martinez, first secretary of the Cuban Communist Youth organization, also spoke yesterday during the closing session of the First International Symposium of Informatics and the Community taking place side-by-side Informatics 2007.
Martinez affirmed that Cuba is now ready to duplicate in the next four years the million people already trained in the use of the new information and communications technologies at the Community Computer Clubs.
Ramiro Valdes Menendez, Cuban minister of Informatics and Communications, toured the area of the fair devoted to Venezuela on Wednesday. He talked with Socorro Hernandez, managing director of Atomization, Informatics and Communications of Petroleos de Venezuela, PDVSA, about the future perspectives of the technologies for the gas and crude oil industries.
Source: Granma
---
Related News
---