First Latin-American cemetery outside a church
Submitted by: admin

05 / 03 / 2007
---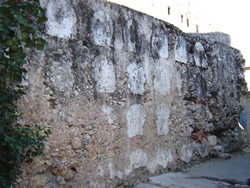 The funeral traditions have always distinguished the different civilizations throughout the history of humankind. Since far-off times this kind of rituals, including the burial, were carried out in religious temples. All human being would find there the ideal place for the eternal rest, the location inside the church depended on the social status of the dead person. This type of custom went to the detriment of the public health and the well development of the religious ceremony. However, this serous problem was solved by the royal warrant issued in the 18th Century to put an end to this custom.
According to history, the first cemetery outside a church was built in Cuba. This took place under the government of Don Salvador De Muro y Salazar, Marquis of Someruelos, who ordered to lay the foundations of that place between the current San Lázaro, Vapor, Aramburu and Espada streets. After being named officially Cementerio General de la Habana (General Cemetery of Havana), it was renamed as Cementerio de Espada (Espada Cemetery) in honor of Bishop Espada y Landa whose direction was crucial for its culmination. This prelate financed with his own fortune, the complete execution of the work as well as the three black slaves with the same number of carts to transport the dead bodies.
An architect whose surname was Aulet managed the construction. The paints that decorated it were signed by Venetian José Perovani. It was officially inaugurated on February 2, 1806.
The first human remains taken to the new cemetery were those from the former General Captain Don Diego Manrique, exhumed in San Francisco de Asís Church as well as those from Bishop Milaza, José González Cándamo who governed the Havana prelacy whose mortal remains were exhumed in the Cathedral. Those funeral corteges departed from the chapel of the Casa de Beneficencia (Charitable House) located at todays Hermanos Ameijeiras Hospital. The dead bodies were transferred in black velvet coffins with golden decorations.
---
Related News
---