First Cuban Rowing Champion, from Holguin
Submitted by: admin

06 / 04 / 2007
---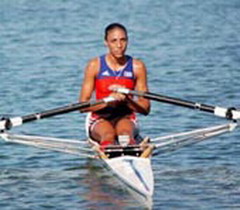 Outstanding sportswoman Ismaray Marrero, from the eastern Holguin province, became the first Cuban athlete to attain a gold medal in a Rowing World Cup. She won the A finals at Linz, Austria where 800 athletes from 46 nations contested.
Ismaray, born in Guatemala, a small village in Mayari municipality, established her pace all through the two thousand meters of the test with 7:57.46 minutes timing, followed by Austrian Michaela Taupe (7:59.05 ) and German Laura Taschi (8:00.04). Marrero, 24, competes as a light single, where she also achieved silver medal at the Eton World Cup 2005.
According to the Cuban Press Ismaray did her first 500 meters in 1:54.78, the 1000 in 3:58.62, and the 1.500 in 6:00.76, followed by the local who registered 1:56.27, 3:58.62 and 6:01.58. Last Friday, in the eliminatory premiere Marrero was second (8:02.53 ) then to be the leader on Saturday in the semifinal with 8:22.23.

Other Cubans also performed well, the other light single Yaima Velazquez, ended up second in the B finals to get an eighth place among 22 participants.

The heavy single Yoennis Hernandez was sixth in the B finals, to achieve an unexpected twelfth place among 41 athletes.

In fact the doublet Marrero-Velazquez is favorite for the upcoming Pan American Games in Rio de Janeiro, Brazil.

The results of the Cuban rowers have obviously improved. By the end of the month our athletes will compete in the World Cup of Holland.
Source: AlDia.cu
---
Related News
---