Fidel Castro meets Vietnamese party leader
Submitted by: admin

06 / 03 / 2007
---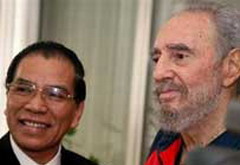 Castro looked healthier than in the last video images shown of him in Cuba on January 30 during a visit by his ally Venezuelan President Hugo Chavez.

"Vietnam is a country that we will never forget," he told Manh as he shook his hand. Manh's Cuban visit is part of a larger South American trip that includes Chile, Brazil and Venezuela.

"It was a meeting that ratified the warm ties that unite our nations," said an official statement read on the evening news broadcast.

"They held talks on issues of mutual interest especially on Latin America," said the statement said.

Castro, 80, expressed his "admiration for the heroic people of Vietnam and the progress of its economy, education and health," it added.

Manh said Castro also spoke about Cuba's "energy revolution" to save electricity.

"He was very happy. I was overcome with emotion. He spoke about many things. They were very deep," Manh said later at a meeting with Cuban Vice President Carlos Lage.

Manh, whose visit to Cuba will conclude his Latin America tour, also held talks with Cuban First Vice President Raul Castro.

The vice president reiterated Cuba's support of Vietnams bid for a non-permanent seat on the United Nations Security Council for the 2008-2009 term.

In response, General Secretary Manh said Vietnam stood firm with Cuba in its struggles to remove the US embargo, to have five young Cubans released from US custody and have accused airline and hotel bomber Luis Posada Carriles brought to trial.

The two sides inked two agreements on oil prospecting, drilling and production in seven blocs located in Cuba's promising Gulf of Mexico waters.

They also signed several other agreements on finance, sports, and television as well as a cultural cooperation protocol, an archives cooperation plan and a memorandum of understanding on rice cultivation in Cuba.

Manh presented part of a 3,000-ton rice donation to the Cuban people as well as 100 TV sets to the offices of the Communist Party of Cuba.

Energy agreement

Vietnam's state oil and gas group on Friday became the sixth oil company to sign contracts to explore Cuba's Gulf of Mexico waters.

Petrovietnam signed contracts with Cuban state oil company CUPET for blocks in the deep waters of Cuba's economic exclusion zone where non-commercial quantities of light oil have been discovered.

Petrovietnam also signed a contract to explore three onshore blocks, a Cuban government statement said.
Source: ThanhNiem News
---
Related News
---