Fidel Castro honors Vilma Espin, his sister-in-law
Submitted by: admin

06 / 21 / 2007
---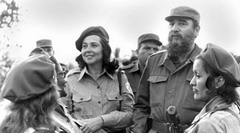 Espin died Monday of an undisclosed illness. The wife of acting Cuban President Raul Castro, she was for decades considered the first lady of the island's revolution.
Fidel has not been seen in public since announcing last July that emergency intestinal surgery was forcing him to temporarily cede power to a government headed by his younger brother Raul, the defense minister.
Fidel did not appear at formal tributes in Espin's honor, but wrote about her in an essay called "Vilma's Battles."
"I have been a witness of Vilma's battles for almost half a century," he wrote, recalling Espin's days as a guerrilla fighter in Cuba's Sierra Maestra and her fight for gender equality once the rebels toppled the government of dictator Fulgencio Batista in January 1959.
The statement was signed Wednesday afternoon, e-mailed to international journalists and was scheduled to appear in official media Thursday morning.
"Her sweet voice, firm and timely, was always listened to with great respect in meetings of the Party, the State and organizations of the masses," Castro wrote, referring to communist-Cuba's top leaders and institutions.
Espin was born into a wealthy family in the eastern Cuban city of Santiago. She became a young urban rebel after Batista took power in a coup, and she battled his government throughout the 1950s.
After the 1959 revolution, she became Cuba's low-key first lady as the wife of Raul, Fidel Castro's designated successor, because Fidel Castro was divorced.
Espin maintained that role over more than 45 years, even after Fidel reportedly married Dalia Soto del Valle, with whom he is said to have five grown sons.
"Vilma's example is more necessary than ever," Castro wrote. "She dedicated all of her life to the battle for women when in Cuba the majority of them were discriminated against like others in the rest of the world."
Espin's power also was rooted in the more than four decades she served as president of the Federation of Cuban Women, which she founded in 1960 and fashioned into an important pillar of support for the revolution. Virtually every woman and adolescent girl on the island are members of this organization.
Source: Chron.com, AP
---
Related News
---