Festival of young cuban filmmakers kicked off
Submitted by: admin

02 / 22 / 2007
---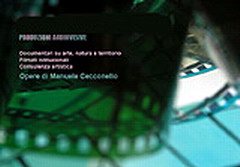 By Laura Mendoza
Some young Cuban TV makers, video makers and movie makers, several of them with credentials from the latest International Festival of New Latin American Cinema in Havana, started competing Wednesday at the 6th National Festival of New Filmmakers.

With over 15 international award winning works, including the Best Documentary of the last event in Havana, "En el hoyo", by Mexican Juan Carlos Rulfo, which opened the national contest that brings together 32 fiction films, documentaries and cartoons. Besides the awards to be granted by the jury, the event will award recognitions on behalf of the Martin Luther King Memorial Center, the Cuban Association of Cinematographic Press and the Faculty of Audiovisual Communication Means of the Higher Institute of Art, among other institutions.

Sponsored by the Cuban Film Institute (ICAIC) and the Hermanos Saíz Association, the competitions fiction section includes titles such as "Gozar, comer, partir", by Arturo Infante, winner in previous editions of the Sample, and "Personal Belongings", by Alejandro Brugués, both contestants of the 27th Havana International Festival of New Latin American Cinema.

This years official announcement extended to the Unpublished Script category, specialty that will also focus a debate provided by the ICAIC and chaired by critics, playwrights and scriptwriters. This space will feature the screening by way of example of films "Una novia para David", by Orlando Rojas; "Clandestinos", by Fernando Pérez; "Nada", by Juan Carlos Cremata and "Plaff", by Juan Carlos Tabío.

Dedicated this time to Oscar Valdés, director of documentaries "Vida y Muerte en el Morrillo", "Vaqueros del Cauto", "Escenas de los muelles" and fiction feature film "El extraño caso de Rachel K", the Festival will set filmmakers from several generations to dialogue. Among the veterans who will share their experiences with the young moviemakers highlights go to directors Humberto Solás (Lucía, Miel para Oshún, Barrio Cuba) and Gerardo Chijona (Adorables mentiras), playwright and scriptwriter Eugenio Hernández Espinosa and sound engineer Jerónimo Labrada.

Films from Mexico, Guatemala, Argentina, France, Belgium and Spain make up the international showing of the event, which will run at the 23 y 12 and Charles Chaplin movies, the "Fresa y Chocolate" Cultural Cinematographic Center and "Titón" Hall, right at the ICAIC building. Under the title "La mirada del otro", the contest will exhibit films made by foreigners that approach Cuban reality. This showing will involve the students from the International Cinema and Television School of San Antonio de los Baños with titles produced in 2006.

Since its first edition in 2000, the National Festival of New Filmmakers has favoured the analysis and screening of the filmography by youths up to 35 years old, most of it made on the fringes of the ICAIC.
Source: CubaSi
---
Related News
---