Festival of overseas chinese
Submitted by: admin

05 / 26 / 2007
---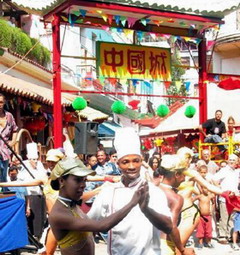 The 10th commemoration of the Festival of Overseas Chinese, of May 30 at June 3, will celebrate in this occasion the 160th anniversary of the Chinese presence in Cuba. Parallel to the program of festivities that will have as venue the China Town of Havana will be developed a scientific conference that will debate on the massive Asian immigration in our country and other countries. Cuban and foreign specialists will attend from the Popular Republic of China, France, Canada, and the United States.

An important moment in the theoretical conference will be the presentation of the multimedia Chinese Societies in Cuba. Past and Present, prepared by the Group of Chinese Studies at the House of High Studies Fernando Ortiz, of the University of Havana. Among the topics to be debated in these days appear: the existing Chinese celebrations in the Cuban cultural identity; Chinese presence in Havana, Holguin, Ciego de Avila, and Bayamo, among other points of the Cuban geography.

Organized by the House of Chinese Arts and Traditions of the City Historian Office and the Group of Studies on the Chinese Immigration in Cuba of the House of High Studies Don Fernando Ortiz, of the University of Havana, the Festival will dedicate, in this occasion, a privileged space to the Chinese societies in the overseas communities paying homage to the oldest communities settled in the island, with more than a hundred years of history, like the Chung Wah and Min Chih Tang casinos, among others.

The House of Chinese Arts and Traditions, located in Salud Street will be the venue of different activities of the Festival program: plastic arts exhibition with the Saloon 160th anniversary of the Chinese presence in Cuba; a theater play with the representation of Tatá and Tomás, Overseas Opera, directed by The Merlo Brothers, scheduled for Thursday May 31, at 5:00 p.m.; premier of the documentary film The Clarity, of filmmaker Angel Ma Argudin, on Wednesday May 30, at 3:00 p.m. it will also be premiered the first chapter of the documentary series Between Bamboos and Palms, of journalist Marta Sosa. This will take place on Saturday June 2, in morning hours, at the Lung Kong Society, located in Dragones Street. The Festival will close on Saturday June 2 with a gala at Antonio Maceo Theater.

On Sunday June 3, dates that coincides with the 160th anniversary of the arrival of the brigantine Oquendo with the first Chinese that arrived to Cuban lands, its scheduled a visit to that ultramarine town of the capital.

In Havana will be remembered this month the 160 years of the Chinese presence in our Island, whose immigrants contributed greatly in the shaping of our nationality and melted forever in the Cuban identity.
---
Related News
---