Ernest Hemingway's former secretary gave lecture in Havana
Submitted by: admin

03 / 08 / 2007
---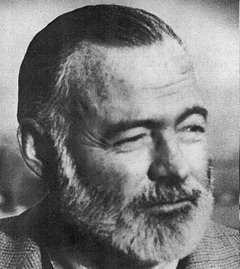 Ernest Hemingway's former secretary, US
free-lance writer and editor Valerie Heminguay, gave a lecture on
the journalistic work of the famous American writer on Wednesday at
Jose Marti International Institute of Journalism in this capital.
Valerie, who is in Cuba to write an article on Ernest Hemingway's
legacy in the island, also talked about her experiences as she worked
for the author of "The Old Man and the Sea" in 1959 and 1960.
"He always told me that I had to read a lot before becoming a good
journalist. He introduced me to the classics such as Dostoyesky and
Tolstoi. Later he gave me a book of Cuban poet Nicolas Guillén as
well," Valerie said.
The US journalist highlighted Hemingway's excellent memory, his
creative talent and his vast knowledge on politics and economy which
made him an exceptional journalist.
Likewise, she recalled that Hemingway started working for a local
newspaper in Kansas with only 18 years and from that moment on he never
stopped writing for the press.
This is Valerie's second trip to Cuba since 1961. She visited the
island in 1999 defying Washington's travel restrictions to Cuba to pay
personal tribute in his centenary to her teacher and friend Ernest
Hemingway.
Valerie was a young journalist working in Madrid when she met Ernest
Hemingway in 1959. She has recently published the book Running with the
Bulls, a memoir of her years as Ernest Hemingway's secretary and then
as his son's wife
Source: ACN
---
Related News
---