Dr. Eduardo Torres Cuevas assumes the direction of the National Library
Submitted by: admin

05 / 15 / 2007
---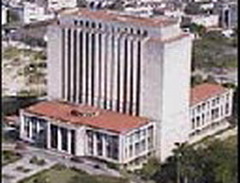 With the presence of Abel Prieto, Minister for Culture, Rafael Bernal, first vice-minister, vice-minister Vivian Velunza; Eliades Acosta, former director of the José Martí National Library (BNJM in Spanish) and current chief of the Culture Department of the Central Comitee of the PCC (Cuban Communist Party in Spanish), as well as sub-directors chiefs of departments of the Library, was officially presented Dr. Eduardo Torres Cuevas as the director of the prestigious institution.
The Minister made a reference to the work done by Eliades Acosta, during his almost ten years as the head of the BNJM and the honor it represents for the country that such an intellectual as Torres Cuevas may be the follower of the work of preserving the heritage that is kept in this beautiful building, as well as the cultural work that is being done there thanks to the excellent group of people who work there.
The new director of the José Martí National Library expressed the satisfaction he felt by assuming the direction of an institution that has undertaken such a serious work and which offers so much help to researchers, reaffirming his certainty that with the help of the group of librarians they will manage to carry on this work and preserving thus the BNJM as an important cultural center.
The attitude of Marcia Medina Cruzata, sub-director of Promotion and Development, who faced the difficult task of the direction in the meantime was also highlighted in this encounter in which intervened also different specialists from the institution.
Source: Cubarte
---
Related News
---