Disc of the late Ibrahím Ferrer in the spotlight in Spain
Submitted by: admin

03 / 25 / 2007
---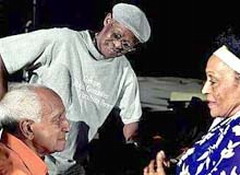 Spanish local media released big headlines in relation to the new album recorded with songs by Cuban legend Ibrahím Ferrer, who died almost two years ago.
Entitled Mi sueño, the disc will be on sale from the 26th this month in recognition, according to Madrid daily El Mundo, to most romantic musical style; bolero.
It features the following 12 songs; Dos almas, Si te contara, Melodía del río, Cada noche un amor, Deuda, Uno, Convergencia, Quiéreme mucho, Perfidia, Copla guajira, Quizás, quizás and Alma libre.
All the recordings, the chronicle says, produced in Teatro Nacional de Cuba, in Havana, are new versions from traditional songs played on Ibrahím Ferrer's so personal way of singing.
The album co-production is by Nick Gold and Roberto Fonseca. Mi sueño is part of musical Buena Vista Social Club .
Made in collaboration with Rubén González (piano) Melodía del río is produced by Ry Cooder with Omara Portuondo and Ferrer singing Quizás, quizás.
Regarding musical accompaniment it relies on Roberto Fonseca (piano); Orlando "Cachaíto" López (bass); Manuel Galván (guitar) Ramsés Rodríguez (percussion).
Ibrahím Ferrer, internationally famous for his long and successful musical following and ultimately for taking central part in the disc Buena Vista Social Club that won a Grammy making Cuban traditional music come back to life again, died on August 6, 2005 aged 78.
His work in the disc covers 12 songs out of the 14 themes totalizing this phonographic production, where he paired with other Cuban glories of bolero and son like Omara Portuondo, Compay Segundo, Rubén González and guitarist Galbán among others as the chronicler recalls.
His unmistakable Afro-Cuban meagre image dressed in light coloured suits and wearing a beret in his head was acclaimed in the worlds most coveted scenarios including New Yorks Carnegie Hall, El Mundo says.
Source: CubaSi
---
Related News
---