Cuyaguateje: from the cuban roots
Submitted by: admin

06 / 15 / 2007
---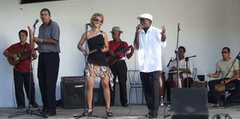 Authentic as the river with the same name, is the group Cuyaguateje, which has devoted their 45 years of its artistic life to cultivate the traditional music of our country.
The same as the greatest flow of this province, that embraces the lands of the best tobacco in the world, this group deepens in our own roots to rescue a forgotten kind of music.
Its director Mario Felix Hernandez tells us that it was founded in 1962 and counted on the support of many poets and musicians. Even when their music is not enjoyed by every kind of audience, Cuyaguateje has earned a place of privilege in the musical view of this province.
Recently, they recorded the album La cola del caiman produced by Bis Music, which includes some titles by some members of the group and representatives of this rythm such as Francisco Repilado, Celia Romero, Sergio Siaba and Miguel Matamoros.
Cuyaguateje and the radio station
The radio station of the province Radio Guama has contributed to their promotion, in fact some of its workers help them to found the group and defended this kind of music in Pinar del Rio.
Fiesta en la cooperativa and Amanecer campesino, are two shows of traditional music that promote the work of this group. Cuyaguateje is also avilable for the audience in Viñales municipality and the rest of the territories of the province.

About its director and something else
When Mario Rodriguez Hernandez, the director began in the group was really young and as he needed a job, Agustin Izquierdo, a friend of his, told him he knew about a group that was looking for someone to play the trumpet. Mario talked to the director and after a demonstration of his talent, was accepted in the group. That happened in 1973, and then in 1975 Mario became the new director, being only 22 years old, because the former one passed away, so he achieved that thanks to the knowledge he acquired in the art school.

A new age began in the life of the group and this mans who has devoted three decades to traditional music, which he confesses was not his favorite at that time. However, little by little he was tasting the poetry in the lyrics that transmit the beauty of the Cuban landscape.
As future plans, they have the goal to continue working hard for the benefit of the Cuban culture and for themselves.
Source: By Idalma Menéndez Feblez, Guerrillero
---
Related News
---