Cultural Gala held to celebrate 50th Anniversary of Granma landing
Submitted by: admin

11 / 28 / 2006
---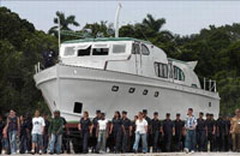 A cultural gala to celebrate the 50th anniversary of the landing of the Granma yacht and the foundation of the Cuban Revolutionary Armed Forces (FAR) was held Friday evening in Havana. The Granma came ashore on the southern coast of Cuba on December 2nd 1956, carrying 82 revolutionaries who would begin the armed struggle against the Batista dictatorship in the Sierra Maestra Mountains.
Last night's gala, held at Havana's Karl Marx Theater, was presided over by Commander of the Revolution Juan Almeida Bosque and was also attended by members of the Cuban Communist Party, the government and political and grassroot organizations. Special recognition awards were granted during the gala to FAR members for their work and the tasks carried out during their military careers.
The courage and patriotism of the FAR members during the Sierra Maestra struggle, the Bay of Pigs invasion, the Missiles Crisis and in internationalist missions in Angola and other countries were highlighted during the gala.
Source: CUBAMINREX
---
Related News
---