Cuba's Industriales wins through to Baseball Series final
---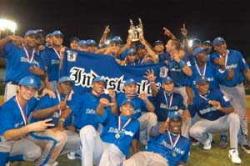 Cuban baseball team Industriales has beaten Havana 10-0 and will go through to the Cuban Baseball Series final, battling the winner of the Santiago-Villa Clara game.
There will be two more games in the Sandino Stadium on Wednesday and Thursday, and further games will take place in Santiago's Guillermon Moncada Stadium on Saturday and Sunday if needed.
On Tuesday night, in a packed Nelson Fernandez Stadium, in San Jose de las Lajas neighborhood, pitcher Yadier Pedroso annihilated Havana's Vaqueros (Cowboys), downing one in the first innings and five in the second.
Havana, which had eliminated favorites Pinar del Rio on the way to Tuesday's clash, was unable to return the attack of Industriales team Leones (the Lions), coached by Rey Vicente Anglada, whose performance included 20 home runs, with starter Alexander Mayeta and Rudy Reyes leading the attack.
Another key advantage was left-handed pitcher Maicel Diaz, whose excellent control and economical pitches meant that he allowed only four home runs in 60 pitches.
Industriales now has six consecutive victories, and seven overall, and wins the title of Western League champion.
In the Eastern League, Villa Clara defeated Santiago de Cuba10-3, taking a 2-1 lead in the best of seven series.
The crucial play for Leonis Martin trained Villa Clara was in the fourth innings, where having started with two on the bases, the so-called Narajas (Oranges), used an Ormary Romero pitch to put the team 6-0 ahead, of Santiago's Avispas (Wasps).
Source: Xinhua
---
Related News
---