Cuba's answer to the Beatles: Film explores forgotten Los Zafiros
Submitted by: admin

05 / 04 / 2007
---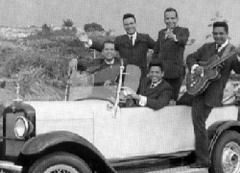 A year or so after the CD and subsequent movie "Buena Vista Social Club" became a sensation in the United States, bringing 1950s-style Cuban popular music to a 1990 audience that had never heard it, the same record company, Nonesuch, released other recordings by musicians heard on the "Social Club" recordings, as well as one made in the early '60s.

"Los Zafiros!" collected recordings made by the band of the title, whose name translates to "the Sapphires."

The music was different from the swaying sons and fiery boleros that had captivated Americans. This, in fact, was American-style pop of the era, doo-wop and early rock, music briefly heard and imported before Castro's revolution, then filtered through the then-fashionable folk-pop of nearby Trinidad that was called calypso.

The liner notes for the record, which I played incessantly for weeks, said the group's popularity was such that it was considered the Cuban Beatles, which admittedly I doubted until I saw the 2004 documentary "Los Zafiros: Music from the Edge of Time."

In the film, director Lorenzo DeStefano tells the story of the band, mostly through surviving members Manuel Galban, accompanying guitarist (who is seen and heard in "Social Club"), and Miguel Cancio, one of the four vocalists whose close harmonies originally owed at least as much to the Ink Spots as to U.S. doo-wop acts like the Spaniels or Moonglows.

As R&B and contemporary pop music drifted, mostly illegally, into Cuba, Los Zafiros became closer in sound and spirit to Motown, especially Smokey Robinson and the Miracles, another vocal group with guitar. The band even performed Motown-style dance routines.

There is little film of the period, so the group's 10-year rise to the top and then back down again is recalled mostly in photographs and the memories of those who were there. Band members show us the clubs and sites of the former theaters where they played as well as the graves of their departed band mates.

At one point, Cancio is seen in the studio with Galban, singing a song he wrote about the group's time together. Don't be surprised if you shed a tear, not just for a band you've never heard of, but for fallen friends.
Source: Terry Lawson, cBussines.com
---
Related News
---