Cuban volleyball team warms up in Bulgaria for World League
Submitted by: admin

05 / 17 / 2007
---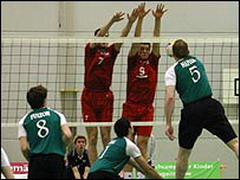 The Cuban National Volleyball Team, with four rookies out of 13 players, will play three tune-up games in Bulgaria in preparation for the World Volleyball League beginning May 25.

Ariel Sainz, who heads the Cuban Volleyball Federation, told Granma Daily that the Cuban selection will be in Bulgaria until May 22 before returning to Havana to play Egypt in the first series of 2007 World Volleyball League on May 25-26.

Bulgaria is said to be among the world's top volleyball teams. It finished third in the Japan World Championship in 2006 and fourth in last year's World Volleyball League.

Cuba will play in Group C during the qualifying round against Egypt, Russia and Serbia.

These teams are traveling to Havana in the first three weeks of league play; then Cubans will travel to play as visitors.

The other groups are: Group A (Brazil, Canada, South Korea and Finland); Group B (France, United States, Japan and Italy); Group D (Bulgaria, Argentina, China and Poland).

Poland is automatically qualified for the second round for being the venue of the finals play in Katowice, along with the leaders of each group. If Poland leads its group, then the second place team in Group D would make the finals.

A sixth team, or wild card, will be selected by the International Federation.

Once again the island will present a young team with average age below 23.

Those competing to make the Cuban team's 12 slots are rookies Raidel Hierrezuelo (passer), Rolando Jurquin and Pedro Iznaga (attackers) and Keibel Gutierrez (libero or top defensive player).

The rest of the squad includes: Pavel Pimienta, Odelvis Dominico, Roberlandi Simon (passers); Maikel Sanchez, Raidel Poey and Raidel Corrales (blockers); setter Yoandri Diaz; Oriol Camejo and Yasser Portuondo (defense), under the coaching staff of Orlando Samuel, Idalberto Valdes and Ramon Lawrence.

If the Cubans take the court with passer Raidel Hierrezuelo instead of Yoandri Diaz and if Oriol Camejo takes the defensive position of Yasser Portuondo, then the six starting players would all be above two meters tall.
Source: Adelante
---
Related News
---