Cuban Museum of Music making waves with new releases
Submitted by: admin

06 / 04 / 2007
---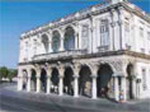 The Cuban Museum of Music has begin publishing books and releasing albums marked by the institutions dedication to the study and preservation of the countrys musical patrimony.

Musicologist and museum director Jesus Gomez Cairo told ACN that one of the main focuses of the museum is on important Cuban works and artists that are little known or unknown.

As an example, he mentioned a collection of piano compositions by Nicolas Ruiz Espadero that have remained in obscurity. The pieces are played by pianist Cecilio Tieles, recorded with the help of the EGREM label, and won a special mention at the recently concluded Cubadisco 2007.

Another disc released by the museum is Leyendas co-produced with Colibri Productions. The album features the Primusica Duet playing a collection of unpublished works by Alejandro García Caturla.

Comez Cairo also speaks proudly of a project of the lesser-known works of Ignacio Cervantes interpreted by Ulises Hernandez that includes musical scores, a CD and a concert DVD.

"All of these are the result of intense research projects that aim to protect the national musical patrimony," said Gomez Cairo.

The museum director said that the institutions next release will be the complete score of the musical Cecilia Valdes, never before published.
Source: By Alina Martínez C., Granma
---
Related News
---