Cuban Minister satisfied with quality of the sugar cane
Submitted by: admin

10 / 25 / 2006
---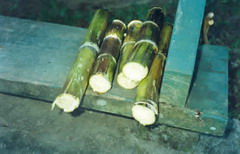 Cuban Sugar Minister, Ulises Rosales expressed satisfaction over the reactivation of sugar cane production in the country, while cutting this crop at a plantation in Pinar del Rio province.
In statements to Cuban TV, the official said the future of the sweet commodity in Cuba depends on the quality of the grass, reason for which he exhorted to giving the best attention to the crop.
Rosales headed a journey of spontaneous work at enterprise number 16 of the westernmost province of Pinar del Rio, where workers are trying to hasten planting and other labors of the sugar cane.
The Minister assured recently that the next sugar harvest will be higher in volume and quality, judging by improved supplies and a better industrial and agricultural preparation.
A preliminary assessment of this industry's potentiality and availability of sugar cane, planned to be carried out from January 1 thru April 30, makes it possible for 51 factories to be working for the harvest, nine more than in the previous campaign.
Rosales explained some capacities will be opened in some mills that were closed during the 2006 harvest because they had too little cane or required important investment in the area of its energy system.
Preps for the next harvest are considered the best of the last years, including investment for the control of industrial residues and setting up of boilers and a group of small turbogenerators.
The Minister advanced the country will assign resources to modernize 11 alcohol distilleries and informed about the acquisition of equipment needed for another three plants.
The Alcohol Development Program, he added, includes the setting up of seven modern distilleries with capacity to produce 300 thousand liters daily each one, very superior to those existing today.
Cuba currently has 60 mills (from a total of 156 a few years ago) of which 40 are actually working, following international sugar prices that influences the area planted with this crop.
Source: Prensa Latina
---
Related News
---