Cuban filmaker Ernesto Daranas finishes first movie
Submitted by: admin

06 / 08 / 2007
---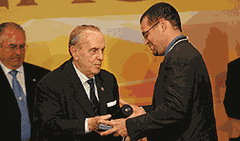 Cuban filmaker Enesto Daranas is finishing his first work "Los Dioses Rotos," inspired in the myth of Alberto Yarini, a popular pimp, who was shot to death in the streets of Havana almost 100 years go.
A descendant of a noble-ancestry family, Yarini followed different footsteps from his ancestors to become a gigolo, a souteneur, and other harsher epithets, without losing his aura of seductive beau, being rocked with typical cuddles by Cuban mothers from that time.
Darana told Mirtha Lamothe, specialist of the Cuban Cinema Institute Information Center that he tried to delve into the roots of the myth that has remained in people's imagination.
The threat of the film is Laura, a professor that is preparing a thesis and she does research into this legend, taking a questioning gander at a character that is frequently raised in literature, sociological research, and the theater.
These are the challenges for Daranas, a talented film director with a career in television, who is cooking a project fought with risks when it comes to offering the audience something original, new.
For his first work, he resorted to melodrama, a mix that the film does not escape from; a search for sparkle, and the commitment to and keeping in line with the real context that he uses as a source of inspiration.
Source: Cubarte
---
Related News
---