Cuban divers training for Grand Prix Events
---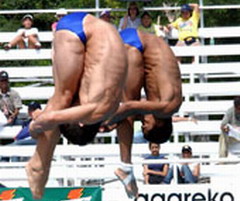 The Cuban top men's diving team - comprised of José Antonio Guerra, Erick Fornaris and Jorge Betancourt - will participate in the fifth and sixth stages of the Grand Prix of diving scheduled for Madrid, Spain, on June 8th, and in Rostock, Germany, on June 22nd.
During the fourth stage of the event held a few days ago in Montreal, Canada, Guerra and Fornaris took a bronze medal in the men's 10-meter synchronized platform while Fornaris and Betancourt placed fourth in the men's three-meter synchronized springboard.
On that occasion, Guerra could not participate in the contest as he was unable to get there in time due to visa problems. Guerra had walked away with the silver medal in the men's platform event during the 2005 World Championships in Edmonton, Canada.
These events are serving the Cuban divers as preparation for the upcoming Pan American Games in Rio de Janeiro, Brazil.
China To Conduct More Than 4,600 Anti-Doping Tests in Training Workshop for 2008 Olympic
The Organizing Committee for the Olympics in Beijing 2008 will contract more than 200 doctors to run anti-doping tests, some 25 percent more than Athens 2004.
The Organizing Committee Services Department said staff from 23 Chinese hospitals will undergo a three-day special training workshop to collect blood and urine samples and run over 4,600 tests.
The committee also chose some 700 college students to escort them to the control centers and notify the results.
Source: Radio Habana Cuba
---
Related News
---