Cuban Baseball Team on its way to Intercontinental Cup
---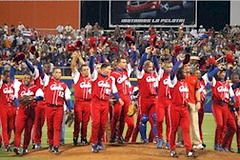 The Cuban national baseball team traveled to Taipei China on Tuesday to participate at the Intercontinental Baseball Cup scheduled for November 19.
The 24-member team is made up of three catchers, eleven field players and ten pitchers, including lefthander Adiel Palma, Norberto Gonzalez and Yulieski Gonzalez.
Coach Rey Vicente Anglada told reporters in Havana that his team has undergone a good training period and is in an excellent position to see victory at the championship.
During the classificatory stage of the games, Cuba is scheduled to play against the Netherlands on November 9 and later face the Australian team.
---
Related News
---