Cuban athletes in Venezuela for ALBA Games
Submitted by: admin

04 / 28 / 2007
---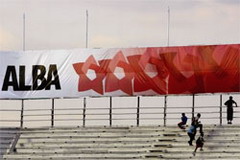 The Cuban flag was flying high as of Thursday at the Brigido Iriarte Stadium as a symbol of the spirit of solidarity that marks the fraternal Second Bolivarian Alternative for the Americas (ALBA) Sports Games that begin Saturday and continue through May 12.
During the flag raising ceremony, the ALBA Games torch was carried by Maria Caridad Colon the Cuban who became the first Latin American Woman to win an Olympic gold, a feat reached at the 1980 Moscow Games.
Colon was flanked by Cuban Swimmer Rodolfo Falcon, who won a silver medal at 1996 Atlanta Games and Juan Morales who was part of the 100-meter relay team that won a silver medal at the Mexico City Games in 1968. Receiving the torch at the foot of the flags was Venezuelan weightlifter Ismael Rubio, who won a bronze medal in the 62-kilo category at Athens 2004.
RUSSIA AND SPAIN ANNOUNCE THEIR PRESENCE
Eduardo Alvarez, minister of Sports and head of the Venezuelan Olympic Committee, told a press conference that the ALBA Games are beginning to surpass the limits of the American continents. In that light, he announced presence of Russian fencers and Spanish judo athletes at the sporting event. Alvarez also advanced that Hugo Chavez would throw out the first ball before the baseball game between Venezuela and Nicaragua in Barquisimeto.
The sports official said earlier that entrance to the competitions events will be free for the population to enjoy and that close attention will be paid to anti-doping regulations and fair refereeing. He noted that many of the participating athletes will represent their countries at the Rio de Janeiro Pan American Games in July.
Alvarez spoke in favor of creating ALBA leagues in track and field, baseball, boxing, volleyball and basketball with an annual calendar that benefits mainly the poorest countries of the region.
The Bolivarian Alternative for the Americas seeks to transform Latin American societies to make them more just, better educated, more unified and more participatory. The current members are Venezuela, Cuba, Bolivia and Nicaragua.
Source: Granma
---
Related News
---