Cuba-U.S. negotiations continue in Havana
Submitted by: admin

05 / 29 / 2007
---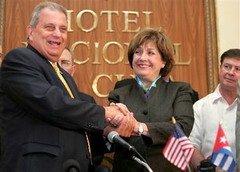 Representatives from around 100 U.S. companies were continuing negotiations begun here yesterday with Cubas food import company ALIMPORT, with the expectation that contracts will be signed for more than $100 million.

During this round of talks, which began with the presence of five U.S. members of Congress, ALIMPORT director Pedro Alvarez affirmed that Cuba is a principal and new potential market for the United States.

Addressing 265 U.S. businesspeople, Alvarez said that from the start of this one-way trade " given that the United States has outlawed the purchase of Cuban goods " and despite the many obstacles, a total of $2.431 billion in U.S. products has been purchased.

He noted that while U.S. restrictions have increased, Cuba has made contact with 4,351 companies from 45 U.S. states, and has established excellent relations with businesspeople and agencies who broadly support the elimination of all obstacles.

The Cuban official also explained that difficulties in financing stemming from the conditions under which Cuba is required to make payment have implied additional annual costs of $110 million.

Nevertheless, Alvarez affirmed, what Cuba has purchased to date under these restricted conditions is little, because under normal trade conditions it could buy double or triple that amount.

On the first day of talks, a group of U.S. businesspeople criticized Washingtons restrictions on the island and advocated the normalization of relations between the two countries.

They affirmed that the blockade hurts not just the Cuban people, but also the businesses of the United States.

---
Related News
---