Cuba to cull baseball team for Rio Games
Submitted by: admin

05 / 17 / 2007
---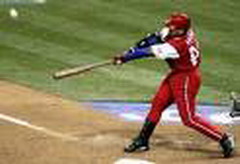 Santiago de Cuba, the champion of the 2006-2007 Cuban Baseball League, placed the most players on the pre-selection team with seven followed by Pinar del Rio (5); Industriales (4); Granma, Sancti Spiritus, Cienfuegos and Villa Clara (3); Camaguey and Habana (2) and Las Tunas, Holguin, Guantanamo with one each. Three teams, Isla de la Juventud, Ciego de Avila and Matanzas were not represented.
Carlos Rodriguez Acosta, who heads the Cuban Baseball Federation, called attention to the presence of five top notch lefthanders and four star relievers on the pre-selection. He said the relievers presence is attributed to the 100-pitch limit that took effect this past season.
Rodriguez also announced that the Cuban team would possibly play a four-way tune-up tournament in Panama with the host team, plus Venezuela and the Dominican Republic.
The roster includes the following players:
Catchers: Ariel Pestano, Eriel Sanchez, Osvaldo Arias and Yosvani Peraza.
Infielders: Alexander Mayeta, Jose Julio Ruiz, Alexei Ramírez, Hector Olivera, Yulieski Gourriel, Rudy Reyes, Eduardo Paret and Luis Miguel Navas.
Outfielders: Frederich Cepeda, Giorvis Duvergel, Osmani Urrutia, Yoandry Urgelles, Yoennis Cespedes, Alfredo Despaigne and Alexei Bell.
Pitchers: Pedro Luis Lazo, Yunieski Maya, Vladimir Baños, Jonder Martinez, Vicyohandry Odelin, Norge Luis Vera, Ciro Silvino Licea, Jose Angel García, Yolexis Ulacia, Felix Rivera, Alberto Bicet and lefties Adiel Palma, Norberto Gonzalez, Elier Sanchez, Aroldis Chapman and Arleys Sanchez.
Rey Vicente Anglada, who led Cuba to victory last year in the Central American and Caribbean Games and the Intercontinental Cup of Taichung, was once again selected by the Cuban Baseball Federation to manage the islands team. His coaching staff includes Luis Danilo Larduet and Arturo Echeverria. The trainers are Jose Elosegui, Julio Romero, Jose Luis Aleman, Orestes Kindelan and Juan Castro.
Baseball at the Pan American Games will be divided into two groups. Group A includes Panama, Mexico, Cuba and Venezuela. Group B has the United States, Nicaragua, Dominican Republic and the Brazilian hosts.
The Cuban team debuts on July 14 vs. Panama, plays Mexico on the following day and Venezuela on July 16. The first two teams of each group will qualify for the one game semifinal. The winners will then play for the gold and the losers for the bronze medal.
Source: By Sigfredo Barrios, Granma
---
Related News
---