Cuba Splits with Serbia in Volleyball
Submitted by: admin

06 / 11 / 2007
---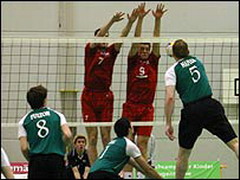 Cuba has ended three weekends of Mens World Volleyball League Group C play in Havana with a 4-2 record, dividing series with Serbia and Russia, and winning both matches against Egypt.
Now the mens squad will return the visit to the three rival countries, playing under conditions quite different from being the hosts with packed partisan crowds at Havanas Sports City Arena.
Local experts believe the team coached by Orlando Samuels can rise to the demands of the competition if it can maintain a consentient rhythm from the beginning to end of its matches.
Excitement took precedence over analysis and composure in the first two sets Saturday night when after coming from behind to edge to within one at 23-24, on both occasions Cubas servers went long, giving the Serbians the win without having to fight at the decisive moment.
Serving problems had also plagued Cuba during the first match lost 3-2 against Russia the week before.
In addition, a hard, low serve by several Serbian players proved highly problematic for Cubas receivers and setters for the counterattack, although libero Keiber Gutierrez showed promise. For the team to advance in the World Volleyball League play, the line of receivers and auxiliary attackers must be ready for the strong serves used by the games elite.
While the Cubans blew several points due to receiving problems and gave away because of inexperience, not much more can be asked from this group of rookies that won bronze at the 2005 World Youth Championship and are now up against this high level of competition.
The team left a satisfactory impression on its fans who cheered their never surrender attitude. A good example was the third set of Saturdays match against Serbia when they came from a sizable deficit to win 32-30.
That spirit, combined with improving in its weakest areas, is the key to becoming an excellent team, something that should take place in time with the many matches to come.
Mens World Volleyball League results over the weekend:
Group A: Brazil 3-0 over South Korea twice; Finland 3-0 and 3-1 over Canada. Group B: France and the US split 3-1, 1-3; Italy and Japan split 3-1, 2-3. Group C: Cuba and Serbia 3-2, 1-3; Russia 3-0 over Egypt. Group D: Polland 3-1, 3-2 over China; Bulgaria 3-2 over Argentina.
CUBAN WOMEN WIN SECOND MATCH
Cubas womens volleyball team finished in second place at the tournament taking place in Montreux, Switzerland after losing in straight sets (25-14, 25-17 and 25-18) against China, the Athens 2004 Olympic champions. The uneven games were in sharp contrast from the Cubas five set win over China during the preliminary phase.
Holland beat Serbia 3-1 to finish third and Germany 3-0 over Turkey for fifth place.
Source: By Alfonso Nancianceno, Granma
---
Related News
---