Cuba shelves turtle trade proposal, trashing Japan's 875 million yen effort
Submitted by: admin

02 / 01 / 2007
---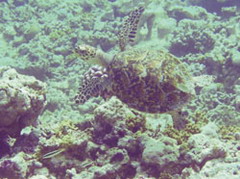 Cuba will put off a proposal to resume trade in sea turtles at an international meeting in June, meaning the 875 million yen the Japanese government has spent trying to restart the business has been wasted, a conservation group said Wednesday.
The Ministry of Economy, Trade and Industry confirmed that Cuba will defer making the proposal at the meeting of signatories to the Convention on International Trade in Endangered Species of Wild Fauna and Flora, also known as the Washington Convention. The ministry said it "will examine whether it is appropriate" to continue funding the projects.
The ministry has been seeking resumption of international trade in hawksbills, calling the ban on trading in the species a blow to domestic tortoise shell product makers, according to the Japan Wildlife Conservation Society.
From 1991 to 2006, METI provided 735 million yen in subsidies to the Japan Bekko Association, based in Nagasaki Prefecture, to research hawksbill resources in countries where the turtle originates, including Cuba, and 140 million yen for its project to seek resumption of international trade in hawksbills and ivory, the JWCS said.
Trade in hawksbills is banned under the Washington Convention because the species was listed in the convention's Appendix I in 1975. The World Conservation Union classifies the species as critically endangered.
But Japan has been aiming to have hawksbills listed in the convention's Appendix II, which would enable international trade in the turtle with the permission of countries of origin, according to the JWCS.
Kumi Togawa of the JWCS said moving the turtle to Appendix II "has not been proposed since it was rejected in the 2000 meeting, and there is almost no chance for it being accepted."
"The Economy, Trade and Industry Ministry has said it will continue the subsidized project for five years from fiscal 2007, but it is nothing but a waste of tax money," she added.
Source: The Japan Times Online
---
Related News
---