Cuba searching for practice before the Pan-Americans
Submitted by: admin

04 / 27 / 2007
---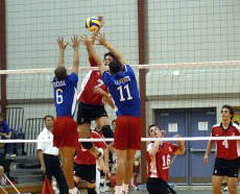 SOME 500 Cuban athletes are participating in the ALBA Games in Venezuela from April 29 as part of their preparations for the Pan-American event in Rio de Janeiro.

The ALBA Games have the objective of Latin American and Caribbean integration, stated Christian Jiménez, president of the Cuban Sports Institute.

He added that at this event, the Cubans are looking for a "competitive model with their sights set on the Pan-Americans so that they will arrive prepared and disposed to fight for victory".

The Venezuelan organizers have arranged tournaments for 43 disciplines and 513 titles but Cuba is only competing for 268 of the gold medals as the event includes sports that are not practiced on the island.

In the diving, tae kwondo, basketball, volleyball and baseball competitions, the islands delegations will be made up of young hopefuls. However, in athletics, the delegations will be led by Olympic champions Osleydis Menéndez and Yumileidi Cumbá.

Javier Sotomayor, a member of the Cuban track and field commission, said that the aim is "to undergo a baptism of fire before the Pan-American Games in July."

Together with Menéndez, who holds the world record (71.70 meters) in the womens javelin event, some 60 athletes are set to travel.

Cumbá will be hoping to revalidate her Pan-American title in the womens shot put and Yipsi Moreno will do the same in the hammer-throwing tournament.

Sotomayor is expecting good results from the jumpers, particularly Savigne, who improved the Cuban records for triple jump (14.80 meters) and long jump (6.79 meters), and Victor Moya in the high jump.

Betanzos is in Venezuela together with the experienced Yoelbi Quesada and youngsters Osniel Tosca, Alexis Copello and David Giralt.

However, Sotomayor indicated that World 800-meter champion Zulia Calatayud will remain in Havana to recover from a muscle contraction. Nor will hurdlers Dayron Robles and Anier Garcia or long jumper Iván Pedroso travel to Venezuela.

In boxing, bantamweight Rigondeaux - twice Olympic and World champion - will head the islands team along with Andry Laffita (48 kilos), Alexei Collado (51), Iván Oñate (57), Rosniel Iglesias (60), Richard Poll (64), Noelvis Veitía (69), Luis Enrique García (75), Yunier Dorticós (81), Ismaikel Pérez (91) and Michel López (91 plus).

Rigondeaux, who has accumulated 95 undefeated victories since 2003, is aiming to exceed 142 consecutive fights, which is the record. "Im feeling good, motivated and want to continue accumulating victories," he told Jit weekly.

At the first ALBA Games two years ago, Cuba finished in first place with 283 gold medals, 154 silver and 135 bronze.

Venezuela was second with 74-143-105.

---
Related News
---