Cubas transportation network gradually improving
Submitted by: admin

12 / 24 / 2006
---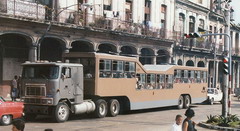 By Raisa Pagés
Transportation Minister Jorge Luis Serra told the Cuban Parliament Friday that improving the countrys freight and passenger transportation entails not only investment in more equipment but also better organization and attention to the needs of the workforce.
Serra said a proper maintenance system and discipline in the use of vehicles is one of the problems that must be resolved so that equipment lasts longer.
The minister of Transportation said that the high turnover of workers in the industry is the result of the poor handling of employee needs. Serra also called for better organization and supervision of drivers and transport routes.
The transportation minister predicted a gradual improvement in transport in 2007, but said it wont be until 2008 until major improvements are noted.
Serra said there is an improvement in the efficiency of cargo transport after taking advantage of the experience of the Revolutionary Armed Forces. He added that the placement of satellite location equipment on 935 trucks has also led to better route organization and a 20-30 percent reduction in fuel use.
More than 200 new trucks are scheduled to be delivered to improve rural transportation and will be used for both cargo and passengers, he announced.
Serra noted that repairs to both railroad lines and the roads network are crucial steps in insuring that transportation equipment lasts longer.
In regards to higher bus ticket prices, now subsidized by 20 percent instead of 80 percent, Serra said the increase hasnt regulated the demand, noting a sharp increase in the amount of passengers. He noted that special rates are needed for lower income segments of the population and pointed to the newly installed reduced rate for students.
Serra called for more discipline, efficiency and organization to achieve gradual improvements in the countrys transportation system.
First Vice President Raul Castro noted that the islands transport was at the brink of collapse due to an accumulated deterioration over the years of the Special Period (post Soviet Union) and that its recovery requires considerable finances and time.
Source: Granma
---
Related News
---