Cuba`s cigar festival attracts tourists
Submitted by: admin

03 / 01 / 2007
---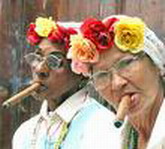 Cuba's annual extravaganza celebrating its world-renowned cigars, which began Monday, could be devoid of star power this year.

No Hollywood personalities have said they will attend the 9th Habanos Festival and acting President Raul Castro, is not expected to show. His far-more-famous brother, Fidel Castro, may not even be well enough to autograph humidors for charity auction during the five-day event.
But the true stars of the festival " premium, hand-rolled cigars " are all that matter to the more than 1,000 aficionados from Spain, Canada, Russia and more than 40 other countries descending on the island, organizers say. "There's not enough space to accommodate all those who were interested," said Manuel Garcia, vice president of Habanos S.A., Cuba's cigar marketing firm. "But specific celebrities, we don't have any."
Last year, British actor Joseph Fiennes of "Shakespeare in Love" fame attended, and Oscar-winner Jeremy Irons traveled to Havana for the festival in 2005. At a news conference Monday to kick off the five-day festival, Garcia said Raul Castro could make a surprise appearance. But Raul is "a man who doesn't appear much at these kinds of activities and also he doesn't smoke," Garcia said. The acting president, who shies away from limelight his brother embraces, took control of Cuba's government temporarily on July 31, when Fidel announced he had undergone intestinal surgery.
Fidel has attended the event some years, and has always signed a small number of finely crafted humidors auctioned off for charity during the festival. "He's recovering very well and we think it will be possible they are signed," Garcia said of five humidors being put on the auction block this year. "But up to now, we've not had confirmation."
This year's festival will launch a new line of cigars for the island's signature Cohiba brand known as Maduro 5 or Mature 5, which are finished with a wrapper leaf that has been aged five years. Wrapper leaves represent the final stage of cigar-making and are essential to how well a cigar burns.
The Maduro 5 line is scheduled for limited production, but officials would not say how many they will produce or how much each will cost, citing competitive concerns. Cuba sold $370 million worth of cigars in 2006, which Habanos said was an 8 percent increase over the previous year. Javier Terres, vice president for development, said that for strategic reasons the company could not divulge how many cigars it sold last year, though in 2005 it put the figure at 160 million.
Source: Zee News
---
Related News
---